Best Black Friday Deals for Busy Moms
It's time to snag the best Black Friday deals and the things busy moms need to manage their home, families and sanity. here are the best Black Friday deals for moms 2019!
I love a good deal but I really only want to spend our hard earned money on the things that will truly make a difference in our lives. These are the best Black Friday deals for moms because they all are geared towards simplifying a particular aspect of mom life. And when things are easier, mom is happier.
Let's walk through my favorite Black Friday deals for moms. Be sure to bookmark and save this page because I will keep this page updated for you as more Black Friday deals are announced.
best Black Friday deals on planners
If you don't know, I review planners and I love to compare planners to help moms find the perfect planner for them. I think a solid planner and productivity system is the foundation to help you set goals and get done the things you have to so you can do the things you want to!
I have a whole separate post on the best Black Friday Deals on Planners because there are so many great planners and they are having a ton of great sales right now. Black Friday is usually the best time to buy a planner on the biggest sale you will get all year.
You can find the best deals at Erin Condren, Emily Ley and Cultivate What Matters!
best Black Friday deals on meal planning
plan to eat meal planning subscription
Plan to Eat is my favorite meal planning service and it goes on an amazing 50% off sale every Black Friday. I forgot to renew my subscription last year and I missed it while I didn't have it. I use it to as my one place to save online recipes and type in ingredients from printed recipes. Then Plan to Eat auto generates shopping lists which I can print or pull up on the app and check off when I'm in the store (for all those times I print up/write my shopping list and forget it at home!).
On those days when I don't have a plan and still need to get dinner on the table, I can search for recipes while I'm in the store based on what meat is on sale or if I need to throw something in the slow cooker and autogenerate the shopping list and get what I need. It certainly saves time and money for us so I'm not as tempted to go out to eat.
You can even share recipes with friends with subscriptions, so you can get new dinner ideas. They have fun monthly challenges (like Easy Meals for the New Year, Instant Pot July, and One Pot October) full of meal ideas so you can just save the ones you want to try. If you have leftovers that you put in the freezer, you can even mark them as "Freezer" so you remember to incorporate them into a future meal plan.
Anyway, Plan to Eat is a steal at 50% off for $19.50 for the year (or $2.48/month). That's less than $2/month for the annual subscription and you'll definitely make up the savings when you find it easier to plan meals you can make at home. You can try a free 30 day trial, buy the Plan to Eat subscription during the Black Friday sale, and add it on to the end of your free 30 day trial end date. That way you get extra savings!
Erin Condren meal planner
This little Erin Condren meal planner petite journal is a powerhouse of a little planner. It has ample space for weekly menu plans, shopping lists and holiday/dinner party planning. I keep mine in the On the Go Folio that goes in my purse.
It's my goal to get a whole year's worth of menu plans into this book so I can reuse it over and over year after year. With the grocery shopping list already prepared, all I have to do is choose a plan and go shopping, I think it will really simplify menu planning for me.
Here's what Thanksgiving week looked like and I've done good keeping up with the cooking so far! I had our Thanksgiving meal on the table in less than an hour in the kitchen! I kept it simple but delicious and incorporated all our family's favorites.
I color coded the list in terms of grocery aisles (I used Erin Condren dual tip markers) to make it easier to add things and know where they are in the store. It saves time to sort my lists this way because otherwise I end up running back and forth all over the store.
I look forward to using both of these menu planning tools together to make sure my hungry boys are always fed which saves us a ton of money from eating out.

Best Black Friday deals for bloggers and work at home moms
I've got another post dedicated to this too because there are so many great deals. If you need a new computer, now is the time to grab a MacBook Air at 35% off! That's the best deal you will see all year.
Anyway, here's the best Black Friday Deals for Bloggers and Work at Home Moms so be sure to check that out too!
best Black Friday deals to simplify cleaning
IROBOT VACUUM
We have one of these iRobot vacuums and it was amazing when we had puppies at cleaning up their dog hair. I definitely enjoyed having one and being able to just run it periodically in each room. The iRobot moves automatically throughout the room, under furniture and into the corners and it does a surprisingly great job! With Rheumatoid Arthritis, the big clunky vacuums are hard for me to maneuver so the iRobot is a dream!
Ours is one of the first generation so I definitely need an upgrade. They have a whole line or robotic vacuums to choose from but this one works with Alexa and wi-fi if you have that already. Pretty amazing!
EYEVAC TOUCHLESS STATIONARY VACUUM
I noticed one of these EyeVac Touchless Vacuums first at a hair salon. You sweep the debris up to this stationary vacuum and it sucks everything right up automatically. No bending over and having to sweep up the debris multiple times to get it all in the trash. An ingenious little contraption to make cleaning easier, especially if you have back or joint problems.
shark handheld vacuum
Can you tell I need lots of help with vacuuming? These handheld vacuums are great for vacuuming the stairs. In fact, my kids vacuum the stairs for me with these and I don't have to worry about them carrying the vacuum up. Currently 57% off!
shark steam mop
I like the Shark Steam Mop because it works on our kitchen floor (laminate for now), our bathroom floors (ceramic tile) and our foyer (hardwood), the pads are machine washable and the steam works really well to get stuck on food and stains off easily without so much scrubbing from me. I wore out my prior version so this is the upgraded version I want to try out. I definitely used it! Currently 29% off!
best Black Friday deals for the kitchen
vitamix blenders
The gold standard of blenders, the Vitamix blender is on a great sale if you have been wanting to try it out. If you use your blender a lot for soups and smoothies, this Vitamix is your go to! Currently 34% off!
kitchenaid mixers
The Kitchenaid mixer is one of my favorite kitchen tools for cooking with Rheumatoid Arthritis. I use mine a lot for mixing batter, meat for meatballs and even shredding rotisserie chicken. This one is their deluxe version and it's almost half off!
hamilton beach slow cooker
I know Instant Pots are all the rage, and they are on a great sale right now too. But I'm a slow cooker girl because I have more energy in the morning to prep meals and get the slow cooker started than I do at dinnertime. By dinnertime, my energy is zapped so I want to just get dinner on the table and it's sooo nice when it's already ready.
There are much fancier slow cookers on the market but this Hamilton Beach Stay or Go Slow Cooker the one I have and highly recommend. I like that it has the probe for the thermometer to able to tell when the meat is done and the locking mechanism so I can carry it to parties and potlucks.
best black friday deals to manage your finances
We've got some pretty lofty financial goals and I know finances can cause a lot of stress. Here are some of my favorite resources to help manage your finances so you can reach your financial goals, whether that's to save more to pay off debt, travel the world, save for kids college, pay off your mortgage or save for retirement. Take control of your money before it takes control of you.
master your money super bundle
A collection of 45 money related resources worth over $1,200 on sale for 97% off! This power packed Master Your Money Bundle will have everything you need to get your finances organized so you can reach your goals.
Check out what's all included:
Erin Condren Petite Budget Book
I've started using my Erin Condren Petite Budget Book as a way to start tracking my spending on the go. I carry it with me and my Debtris chart free from Debtfreecharts.com so that I remember my why for saving money and earning money from my blog (so we can pay off the mortgage and be truly debt free!)
I feel like carrying this with me when I'm shopping will help me stay focused on our financial goals. I am also trying to transition to a cash envelope system in 2020 for some of our more controllable expenses like groceries, eating out, household decor (target runs) and fun stuff.
cash envelope wallet
Someone recommended this cash envelope wallet on Instagram and I love that it's a binder type and has premade envelopes already done. I want one of these to get my envelopes together!
budget by paycheck workbook
I've been following the Budget Mom and I've been so curious about her zero based bugeting method. As a former accountant, my definition of budget is to maximize profit. So essentially spending all your money and allocating it to every little thing sounded kinda nuts.
But the more I've learned the more it makes sense for those trying to pay off debt and save towards the life they want (like us!). So I'll be using her method to start saving more so we can pay off that mortgage and pay our son's college tuition in cash!
The Budget Mom has plenty of free resources but she also has a budget by paycheck workbook that's an extra 15% off for Black Friday (use the coupon code BLACKFRIDAY15). ! I got the printable version so I only print the pages I need and I can shrink them down to fit in my Erin Condren Petite Budget Book so I can keep it all in one place.
best Black Friday deals on books and courses
I know we don't always make time for reading or taking courses to improve our lives but these resources can really make a difference in your life, mind and wallet.
money saving mom courses
Crystal from Money Saving Mom is a breath of fresh air and has several courses geared at helping women be more productive, give themselves grace and enjoy life more. These are my favorite courses she offers and they are all 50% off too!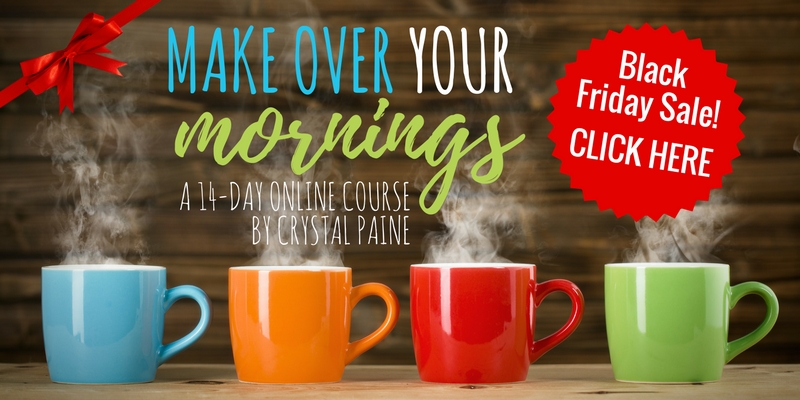 Crystal is great because she is relatable and tells us about her struggles as well as her triumphs. She's a great resource and these economical courses are worth the small amount of time they take to complete to have a huge impact on your life!
emily ley's books
I love these books by Emily Ley and I've just placed an order for her newest release, When Less Becomes More.
Get the entire book bundle by Emily Ley here for 30% off and they are all worth the read!
Self Care Bundle
Another bundle of resources, this one dedicated to you and your Self Care. From skin care, to healthy eating/weight loss and maximizing your morning routine to building your wardrobe as a SAHM to make you feel your best, this Self Care Mini bundle has 10 resources just for you for less than $12!
Well I've given you lots of ideas to help busy moms make their lives easier. Now is the time to grab a great deal on a tool or resource that can help you all year long!