The Best Erin Condren Planner For Your Needs
What is the best Erin Condren planner for you? There are so many options, here's a quick guide to help you decide the best Erin Condren planner for you right now.
I get this question a lot…it can be overwhelming to know where to start because Erin Condren has over 1,000 products on their site! I hope this quick little guide will help you pinpoint which one to look into first to see if it's right for you and your needs.
Note: Some of the products shown were sent to me for free for review. Opinions expressed are honest and 100% my own. This post may contain affiliate links or referral links. Purchases from these links provides a small commission or discounts towards future purchases to me at no extra cost to you. Refer to my Full Privacy Policy and Disclaimers here.
Please note that Erin Condren chooses several themes/color schemes each year and they discontinue old themes/products. The pictures below are a mixture between my personal collection since I started using the planner in 2015 so you can see how I've used them and current pictures from the Erin Condren site. Please head to erincondren.com for the latest availability and info.
The best Erin Condren planner for stay at home moms….
I started with the Erin Condren Weekly Life Planner (vertical layout). It has a week on two pages and 3 boxes per day that you can customize. For example, you could label each box:
morning, afternoon, evening, or
appointments, home/family and self care, or
to go, to do and to text/call, or
You get the idea, each box has a blank header so you can customize it for your needs each week as life changes and to see what works best for you..

At that time, they didn't have an Hourly Life Planner yet. I think the hourly is great too for stay at home moms to block out kids' schedules, and then fill in the remaining blocks with the things you need to get done (like meal prep, cleaning, self care, etc). Time blocking/tracking really helps you stay productive, get an overview of your week and see how your time was spent when you ask yourself, what did I do all day? The hourly planner will help you see exactly that!
Another planner I have not yet tried out myself but I think would be great for stay at home moms is the Parent Planner. It's a 3 month undated planner where you can keep kids school/teacher info, class schedules, reading logs, chore trackers and checklists in addition to an hourly format that could be used as a weekly or daily if you want an overview of each kid's schedule. I think this is a great option since it's less expensive and you can use it whenever you need it if you aren't a die hard planner like me.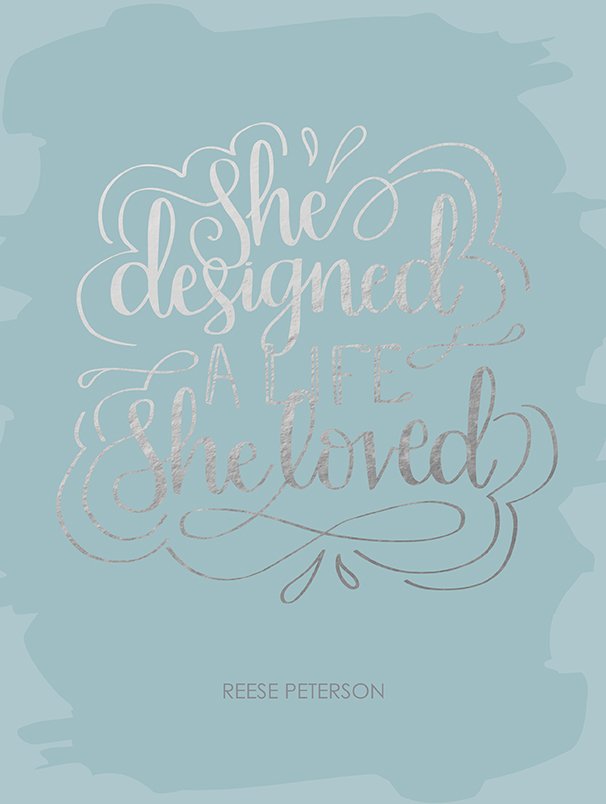 Erin Condren Life She Loved Metallic Daily Parent Planner
from:
Erin Condren
The best Erin Condren planner for work from home moms…
To run this blog, Etsy shop and mom, wife and rheumatoid arthritis life, I really like using a daily planner. Erin Condren has a few different daily planners.
My favorite is the A5 Daily Duo (coiled version). It comes with 6 months of monthly and daily pages in each book. With a schedule on the left and to do list and notes on the right, there's enough space for time blocking/time tracking to plan out your day and plenty of space for your to do list and a little journaling or habit tracker if you like. The Daily Duo also comes in a 7"x9" coiled version. There is a daily page for every day of the week, including Saturdays and Sundays. Weekends are busy around here so I like that Saturdays and Sundays have their own pages!
Before they came out with the coiled daily planner, I LOVED the Erin Condren Daily Petite Planners. The daily planner comes in a small quarterly sewn notebook and you can combine different petite planners and notebooks together in a folio system (similar to travelers notebooks). This allows you to customize your portable planning system. They have a great selection of petite planners/notebooks to choose from (see more below in the if you want an all in one planner option).
The best Erin Condren planner for work outside the home moms…
If you need something that looks more professional, I think the Focused Collection is where to start.
The Focused Collection looks professional and comes in coiled, softbound or a new A5 ring agenda version. They are made with vegan (synthetic) leather so they are minimal, clean and come in a variety of neutral tones, some covers even have a subtle Star Wars theme. The interior minimalist layouts are in neutral tones of blue and gray so the Focused Collection can be used by men or women.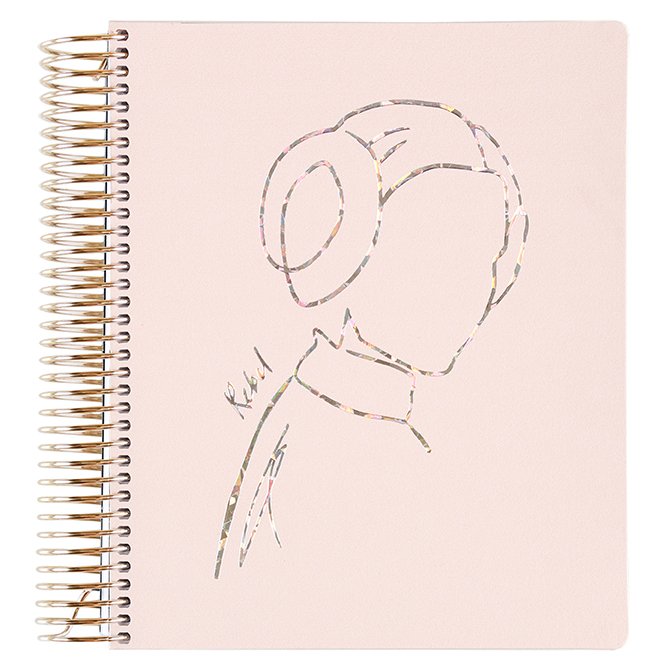 Erin Condren Star Wars Princess Leia Blush Vegan Leather Customizable Focused Planner
The best Erin Condren planner for students…
For students, the Academic Planner is great because it helps your student track class assignments, projects and exams, schedules and their weekly tasks. I love that you can choose both the binding style (coil bound or softbound) and you can add notes pages to it for more detailed project planning.
The best Erin Condren planner for teachers and homeschooling moms…
I love the way the Teacher Planner is broken down into a grid format so you can map out the different classes by day. There are 7 checklist pages so you can record attendance or grades. The Teacher Planner is 8.5" x 11" so there is plenty of room to write. And with 210 pages for planning, it's one that is ideal for staying on your desk.
The best Erin Condren planner if you want an all in one planner…
I love having everything I need in one planner. Home, family, self care, finances, master project lists, gratitude, wellness, travel, new baby, etc.
I recommend the Erin Condren Petite Planner System if you want to take it on the go. This system is a travelers notebook type system with sewn bound books in a folio. They have a fun variety of planners/journals so you can mix and match for your needs.
The Petite Planner folio can hold 4 petite planners at one time. Usually, when you buy all 4 petite journal/planner inserts at once you can get 20% off. I love these because it really helps me focus on the goal of the journal. For example, when I am in the gratitude journal, I can flip through and be focused and intentional with just my gratitude.
I have quite the collection myself…see?
If your all in one planner is going to stay at home, then I recommend the LifePlanner Binder. You can add daily/weekly inserts or different types of notes pages to customize what you need. Get the hole punch to add pages to this binder. I like the covers for these. They are big planners (7" x 9" pages) so I do recommend they stay at home but they make an excellent home management binder/planner. You can read my full review of the LifePlanner Binder I got here. The binder covers are released with the new theme each year and they discontinue the old styles so you have to snag the ones you like!
Erin Condren also has an A5 size binder system. Honestly, I love the insert pages but I'm not crazy about the vegan leather binder itself (I have the Colorblends binder, I can't speak to the others). I would use the Erin Condren inserts for their great paper quality and design and then a Filofax A5 binder for a better quality binder for the price.
For both of these binder sizes, you can buy the inserts quarterly which is wonderful because you can try it out at a reasonable price and make sure it works for you before buying more inserts or investing in the binder and hole punch.
The best Erin Condren planner for portability…
Again, I like the Erin Condren Petite Planner system for portability because you can add up to 4 planners/journals to make it as chunky or slim as you like very easily. Since it does not have a coil or laminated cover, it won't get damaged if you throw it into your purse or backpack.
The best Erin Condren planner for less than $25…
If you want the whole year with weekly planning…the pocket planner. Hopefully they restock the new versions soon. These were so cute for slipping into your purse for an every day carry planner.
If you want to just try a quarter's worth of planning…the daily petite planner is $14 and comes with 3 months worth of daily and monthly pages, a pocket and sticker sheet. It's great for trying out if you want to try daily planning. Or the A5 quarterly daily inserts are $15 and you can get an A5 binder like this on Amazon for $10.
If you want 18 months…the monthly petite planner includes 18 monthly calendars and notes pages for $14. Also includes a pocket and sticker sheet.
The best Erin Condren planner for memory keeping…
I think the Erin Condren planners are gorgeous for memory keeping. The more neutral layouts are what I love for memory keeping so I can add pops of color where/when I want to with colored markers, stickers and highlighters. I'm using an A5 Daily Duo for my daily memory keeping which I really enjoy. I use a Erin Condren Weekly Life Planner vertical layout for weekly memory keeping.
The best Erin Condren planner for a reading journal…
I have used a monthly Erin Condren planner for a reading journal. You can see photos of it on my Instagram, to track what I'm reading, books read shelf, reading challenge tracker , book notes and memorable quotes.

Erin Condren Flora Peony Special Edition Flora Personalized 2022 Monthly Planner 6.875″ x 8.5″ Floral Print
They even have an adorable Grogu Reading Journal and Log for kids. I think my reluctant reader would love this. Who am I kidding? I would totally use this for myself! I don't care that it asks for my age on the book notes page… 🙂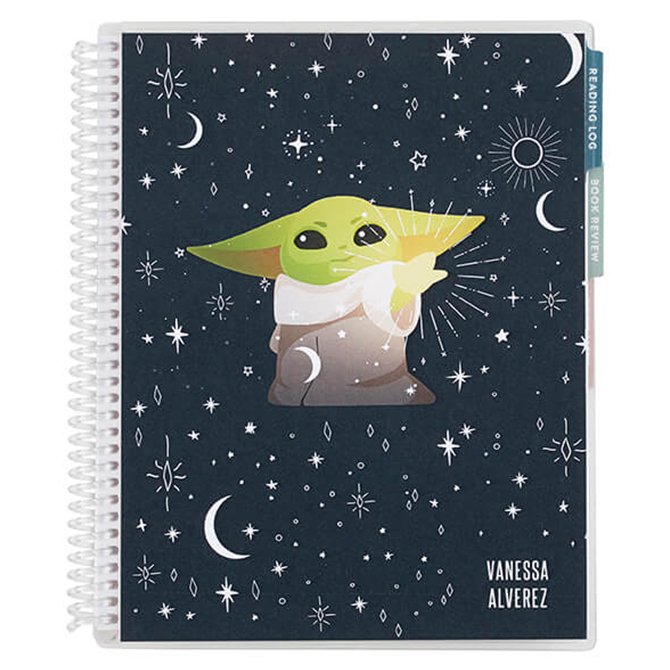 Erin Condren Star Wars Grogu Reading Log And Journal
The best Erin Condren planner for meal planning…
I love the Erin Condren petite meal planner. It's my favorite meal planner for paper planning. It's compact so I can slip it in my purse backpack for on the go (or you can carry it with other small petite planners and journals in the Petite Planner Folio system.
There is a two page spread for each week in the meal planner. The left page is where you can write in your breakfast, lunch and dinner for each day and the right page is for your shopping list and meal plan strategy. I love to meal prep as much as I can ahead of time so that it makes dinnertime easier. That little "meal plan strategy" section really makes sure I think it through so I can get it done!
The best Erin Condren planner for budgeting…
If you're a monthly budgeter or just getting started with trying to track your expenses so you can make better choices with your money, then I recommend the A5 budget planner. In addition to monthly budgets and spending summaries, it has savings goal trackers, debt trackers and other worksheets to help you get started with managing your money. This bundle is a good deal because you get the planner and an accordion file that can be used to store receipts, coupons or use it as a cash envelope wallet.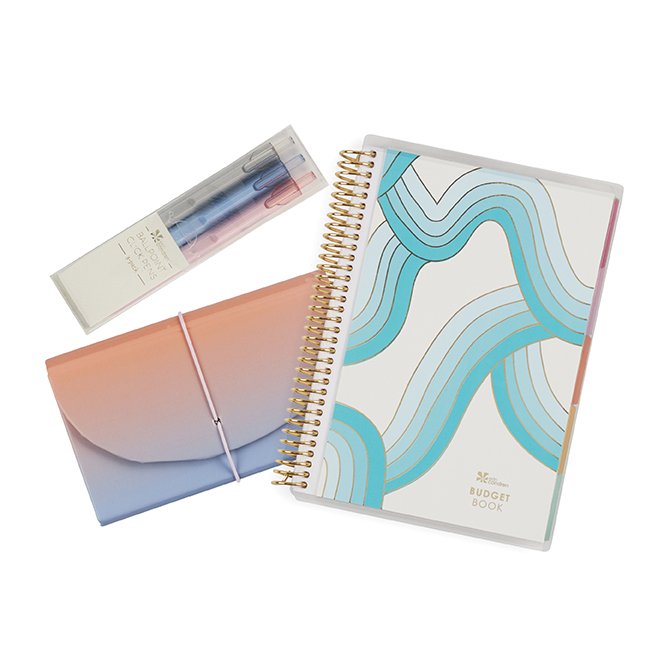 Erin Condren Budget Planning Bundle
I am a paycheck budgeter so I need more pages and I prepare a few monthly financial reports so I can analyze my spending. Even though I'm a former accountant who spent most of my work life on a spreadsheet, for my personal finances I love tracking it on paper. It makes it more fun when I can color code my expenses and it's more impactful when I have to write down each transaction where we gave our money away. So I like using a 7"x9" graph paper notebook so I can make my own pages and keep a finance bullet journal of sorts with all the trackers I want! This beautiful wisteria vegan leather notebook is the one I have!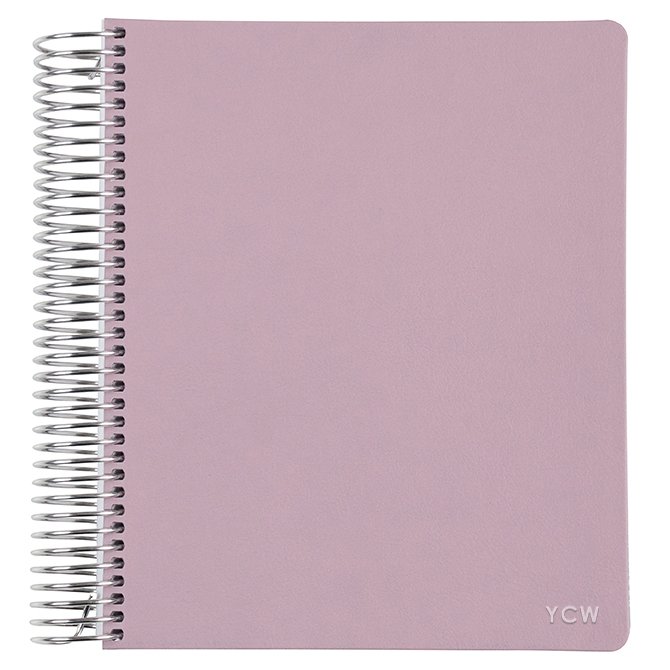 Erin Condren Wisteria Vegan Leather Notebook
The best Erin Condren planner for goal setting…
I really liked the goal setting petite planner Erin Condren used to sell. Now, they have a coiled A5 goal setting journal with room for a vision board, and from what I can tell 12 goal sections so you can name your goal, break it down into action steps and monitor your progress. I do wish more goal setting was incorporated into their life planners and daily duos but this little goal setting journal is great if you don't mind keeping your goal work in a separate book.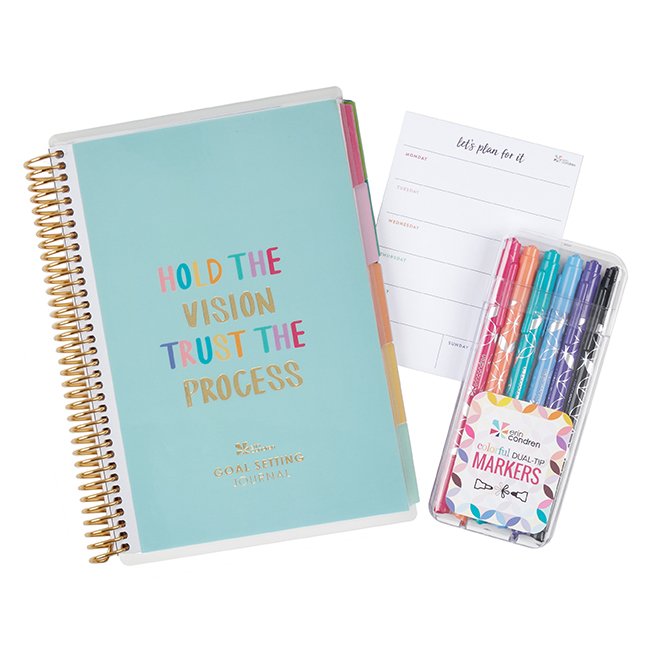 Erin Condren Goal Setting Bundle
I haven't used it personally yet but I like the Year in Preview Petite Journal too because it has room to plan out your year and checkin with your goals quarterly. I also has goal brainstorming pages, breaking down the goal into action steps and a place to document your accomplishments and victories which I think is incredibly motivating and rewarding. So if you like quarterly planning, this one is great to try out.
The best Erin Condren planner for Bible journaling…
Erin Condren has a daily faith journal and a daily Christian faith (NIV Bible version) journal. I prefer the daily faith journal so you can write in your own Bible verses if you use a different translation. There is room for goals regarding your faith, weekly sermon notes and 3 weeks of daily prayer and gratitude pages. I think it's a neat little book to slip in your bag to take for your church service and it's undated so there's no pressure for how/when you need to complete it.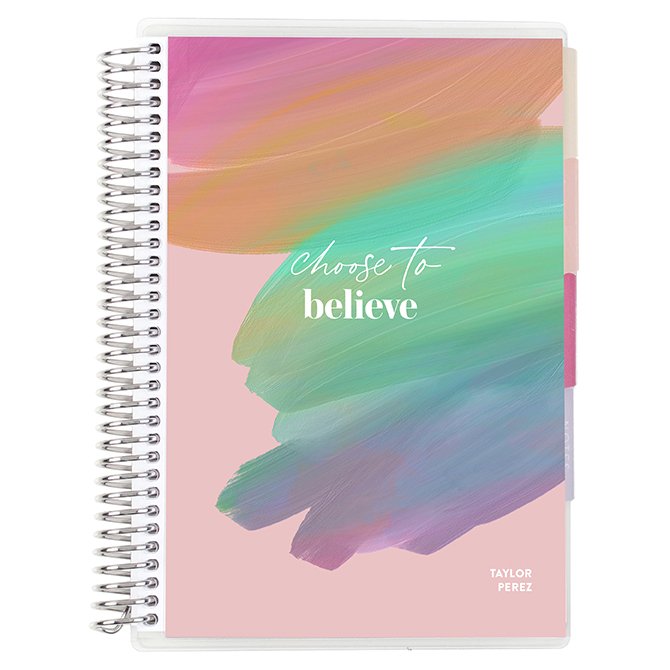 Erin Condren Believe A5 Daily Faith Journal
The best Erin Condren planner for daily journaling…
Erin Condren has a few daily journals that would work well….the daily gratitude, the daily year over year journal (so you can write in memories from this year and next year in one book), a daily wellness planner. But my favorite is the Hello Kitty Daily Kindness and Joy planner. It's one of my goals this year to spread kindness and joy to others, I love to encourage people to live their best lives. And Hello Kitty is just so adorable. Here are more ways to use Erin Condren notebooks for journaling and free prompts too to get you started.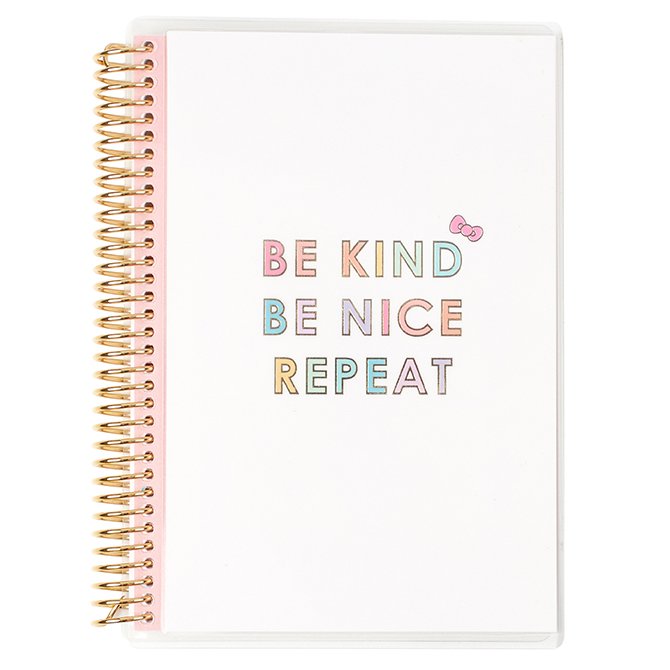 Erin Condren Hello Kitty Daily Kindness And Joy Journal
What else would you like to see? What do you use your planners for? I hope this gives you a quick win as you try to figure out which Erin Condren planner is right for you. Be sure to check out my Erin Condren planner buying guide too for answers to frequently asked questions..like it is really worth the money, best pens to use and all the new changes that have come out for 2022-2023!