Best Goal Planners 2023 – Set and Achieve Meaningful Goals
The best goal planners 2023 to help you set and achieve meaningful goals and have your best year yet. A wide variety of thorough planner reviews here.
Note: This blog contains affiliate links or referral links. Purchases from these links provides a small commission or discounts towards future purchases to me at no extra cost to you. Refer to my Full Privacy Policy and Disclaimers here.
Goal setting can be overwhelming. You have so much to do in so little time and you want all the things done now. It can be difficult to choose the goals to focus on and the path you want to take for your life. And once you're overwhelmed, you give up on your goals.
I know, I've totally been there. 2022 was not my best year with goalsetting because I stopped checking in with the goal planner and kept switching goal planners till i found the one I'd stick with. I felt like 2022 could have been better if I could have focused and stuck with a goal planner.
As a result of my 2022 uncertainty, I scoured the internet for the best goal planners for 2023 and thought i'd share them with you, if you still feel uncertain or overwhelmed about your 2023 goals.

I spend a lot of time reviewing planners and have narrowed it down to the 6 best goal planners 2023. These awesome goal planners can help you:
identify your most important goals
break your goals down into actionable and achievable steps
track your progress
serve as reminders to schedule your goal work into your busy life,
make tracking your progress towards goal achievement fun and ultimately…
crush your goals!
Whether you know exactly what goals you want to pursue or you need help figuring out what to go after in 2023, there's a goal planner that will help you achieve your dream life. Let's take a look….
1. Best Goal Planner 2023 Printable: Simple Goal Planner
My Simple Goals planner is undated, not period specific and a printable so you can print up and set meaningful goals when and however often you need it. Here's what my 45 page printable Simple Goals Planner will help you with:
💭 mindmap how you want to feel, what motivates you, what brings you joy and what makes you feel better when you're down
💡 brainstorm how to turn your struggles into opportunities
🎁 brainstorm how to turn your gifts and what fires you up into goal ideas and how you want to bring value to yourself, your family and community
🏆 find successes you are proud of so you can continue to build momentum
🎯 brainstorm your word of the year and goal ideas
🌠 Create a vision board
🔢 priortize your goal ideas by impact they have on your life
🪜breakdown your goals into action steps
✅ celebrate progress with 8 fun trackers to color in. ❤️ develop habits with daily, monthly and annual habit trackers
🗓️ it's undated and not specific to a time period so you can choose how often to do your goalsetting

LAUNCH DAY SALE! Get the Simple Goals planner in my Etsy shop for 20% off until 12/31/22 just in time to set goals for the new year. Note: this is a digital download printable planner, nothing physical will be mailed to you.
The design is minimalist with mostly black and white and tiny pops of color. It's a US Letter size printable so there is plenty of room to write, get messy and really let your ideas loose so you can pinpoint what's most important to you.
I know it can be hard to prioritize your goals so some of my favorite pages are the goal priorities matrix by impact to help you objectively assess each goal idea so you can choose your priorities for the next time period.
I gotta admit, I love the goal progress trackers too, I had so much fun making these I just couldn't stop! So there are 8 covering various aspects of life including dreaming, reading, health, finances and staying on target. Even when you don't complete a goal before your deadline, these trackers help you see the progress I made. And let's face it, they are just fun to color in!
I really hope that my Simple Goals Planner will help you simplify goalsetting and make it fun! I can't wait to get started!! Join my free VIP Facebook group where we may have some silent co-working sessions to work on our goals (no matter which goal planner you choose).
Buy the Simple Goals planner here for 20% off until 12/31/22.
2. 13 Week Planner: Full Focus Planner
The Full Focus planner is one of the best goal planners 2023 because it is focused on breaking your goals down, incorporating the action steps into your weekly and daily planning and reviewing/reflecting on them each week until it's done. The Full Focus Planner is geared more towards people who know what they want and just need help staying focused on it. It does not have the prep worksheets like Powersheets to help you figure out what goals you want to go for.
These weekly preview pages are gold to me. This is my favorite weekly review and reflection process to document your wins, what worked, what didn't and update all your task, notes and goals list so nothing falls through the cracks. Ever since reading Free to Focus, this is the weekly review process I do each week and it's already included in the planner with your daily planning pages so you don't forget to do it.
I used the Full Focus Planner for much of 2022 and loved it. I like that it has goalsetting, routine setting monthly, weekly and daily planning (a day on 2 pages) all in one planner. Even Saturdays and Sundays have their own full day on 2 pages also which is great for people who are busy on weekends too.
They are undated and have enough pages for 13 weeks and 3 months of planning so they work well for people who like to plan quarterly. It's now available in a binder option too which looks awesome!
Read my complete Full Focus Planner review here.
Buy the Full Focus Planner here and get 10% off your first order with my discount code TANYA10.
3. Powersheets Goal Planner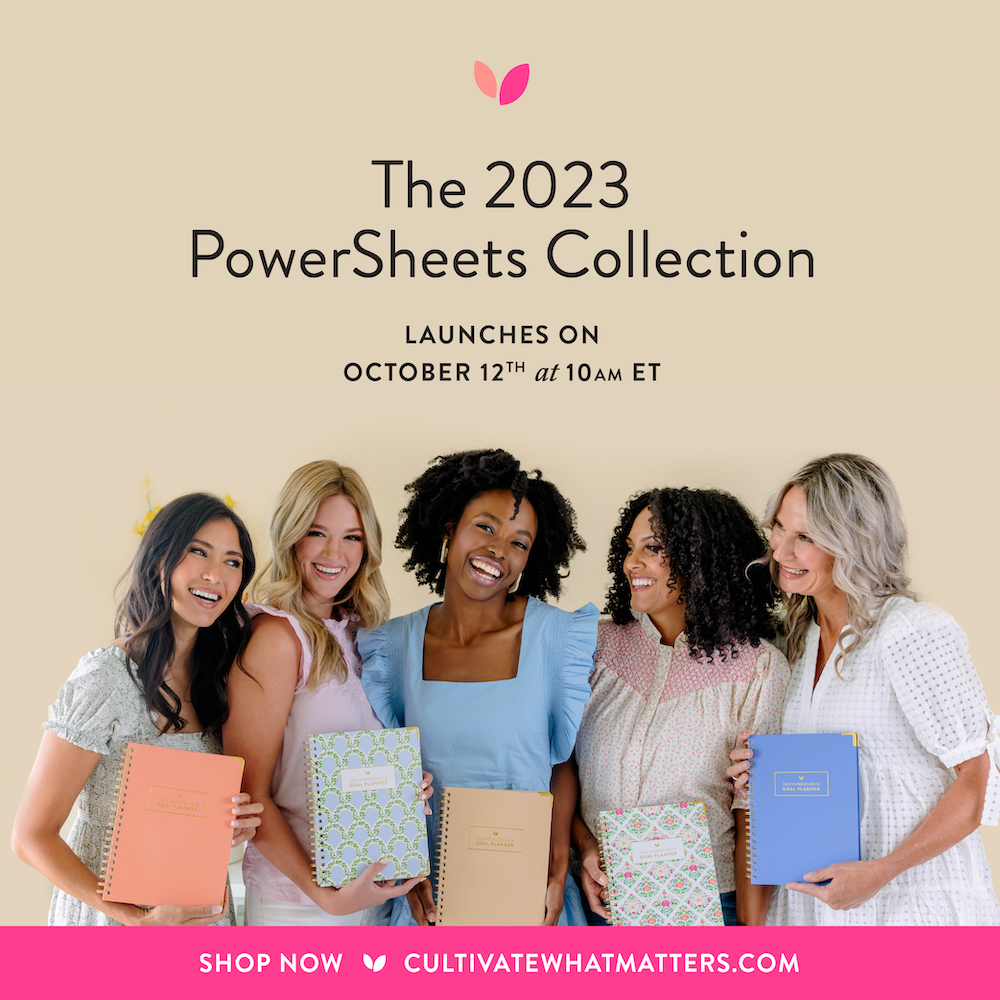 I used Powersheets goal planners from 2018-2022 and I loved them. I think the Powersheets goal planner is great if you don't know what goals to pursue or you struggle with achieving goals and you want to figure out why.
What makes the Powersheets goal planner unique is the amount of prep work and deep dive questions they ask to help you pinpoint what matters to you and why you're stuck. If you invest the time in the prep work, you'll find the worksheets valuable to go through to help you focus on the legacy you want to leave behind and how to break free of the identity box you're stuck in. It helps you think through your life in key areas to help you live a more balanced life.
The Powersheets goal planner is meant to be used alongside another daily or weekly planner. It has annual prep work, quarterly refreshes, monthly calendars, and monthly tending list which is a one page tracker for your monthly, weekly and daily goals. You can tear out the tending list to keep inside your planner which is what I recommend doing so you don't forget to check in with it.
Buy Powersheets goal planner here.
Check out my past experience with Powersheets goal planners in this Powersheets buying guide.
4. Erin Condren Goal Planner
I love the Erin Condren Goal Planners. In an A5 size and coiled or sewn journal option, they are portable and colorful and can be used alongside your favorite planner. They are undated so can be used anytime. Each book has room for 6 goals and:
introduction to goalsetting pages
Breaking down the goal into actionable steps
Steps towards the goal (6 spreads)
Undated weekly goal check-in (9 spreads/18 weeks per goal)
Celebrating the goal & accomplishments spreads
Lessons learned spread
Looking ahead spread
If you are motivated and inspired by colorful layouts, quotes and high quality paper, then the Erin Condren goal planner is a good choice for you.
5. Clever Fox Goal Planner
The Clever Fox goal planner (the Clever Fox 13 Week Ultimate Achiever's Planner) is one of the best goal planners 2023 because it has ample space to map out your goals, milestones to achieve them and then weekly and daily planning and reflection pages to ensure you stay focused on the goals.

I love that you can classify goals in one of 8 life areas, it doesn't require you to evaluate your life in each area. This structure gives you more flexibility so you can focus on just a few priorities/life areas at a time instead of being compelled to set a goal in each one, which can be overwhelming.
I really like the daily and weekly planning and reflection pages too that focus on how you moved your goals forward and celebrating your victories. The included stickers are a fun way to celebrate your achievements and keep the momentum going.
The planner is undated so you can use it for one quarter to decide if it will work for you. It is a more budget friendly option for a quarterly planner.
Full review coming soon.
Buy the Clever Fox 13 Week Ultimate Achiever's Planner here.
6. Living Well Planner
I think the Living Well Planner is one of the best goal planners 2023 especially for moms who want a more balanced life.
The Living Well Planner goalsetting pages are simple but effective. They have prompts to break down your long term goals into different areas of life, your motto and word of the year.
The monthly goal setting pages allow you to tackle those long term goals month by month and has goal crushing to help you define objectives, action steps, how to handle obstacles and remind you to treat yourself when you complete it.
The project planning pages helps you think through the details, milestones, action steps and brainstorming ideas to finish off the project. I love that these goal setting pages are included monthly.
In addition, the Living Well Planner has monthly budgeting pages and weekly planning pages including spaces for your must do's, your schedule and your meal plan each day. It's undated so you can use it anytime you need it.
See my full Living Well Planner review here.
Buy the Living Well Planner here.
7. MakseLife Goal Planner
The MakseLife Planner is designed by life coach, Sierra Friend, and is a very thorough and detailed approach to goalsetting. The planner has pages to help you assess your life in 8 main areas (such as physical environment, fun and rec, work and learning, personal, finances, spiritual and personal development, etc). You then develop goals and design weekly actions for each life area. I think it's a very thorough system and good for people who want to tackle all the goals in all the areas.
You do a reevaluation of your compass assessment (your life area wheel) each quarter and then devise your weekly actions again. I think the MakseLife goal planner is great for people who want to tackle a little bit of everything to see overall improvement in your life and need the encouragement and support of a life coach and are willing to invest the time and commit to the process.
I love that the goals and planning pages are built together in one bound book or folio so it's good for people who want an all in one planner.
MakseLife does have free printables on their site to check out their compass assessment, weekly actions and planning pages before you commit to buying, which I think is great. I've tested out the free printables but haven't used MakseLife goal planner yet myself but I'd like to! I think it's a very complete system.
Buy MakseLife planner here.
Well, there you have it the best goal planners 2023 to help you pinpoint and set meaningful goals and stay on track so you can crush them!
More Best Planner Posts
Want more free resources and productivity tips so can get more done and have more fun?
Subscribe now to my newsletter and gain access to the Exclusive Subscriber Library full of planners, printables and tips to plan and organize your life so you can crush your goals and achieve your dream life NOW!