8 Best Planners for Working Moms To Juggle Your Work and Life
These are the 8 best planners for working moms to juggle your work and home life and make time for the things that matter to you. Get more of the best planners for moms.
Note: Some of the products shown were sent to me for free for review. Opinions expressed are honest and 100% my own. This post may contain affiliate links or referral links. Purchases from these links provides a small commission or discounts towards future purchases to me at no extra cost to you. Refer to my Full Privacy Policy and Disclaimers here.
I worked outside the home full time (and often overtime) as an accountant and internal auditor until my oldest of 3 sons was 13. I remember how chaotic and overwhelming life was trying to juggle everything I needed for work, home life and my failing, unpredictable health.
At the time, my employer bought a planner for me and they were the generic office supply ones. That was before I found the planner community and what amazing planners there are available for working moms. I wish I had one of these planners when I was a working mom. But it's not too late to share them with you!
What Makes These the Best Planners for Working Moms?
There are some key features you should look for in a planner when you're a working mom so I will be addressing each of these factors:
Professional looking cover to take into meetings
Clean and minimalist interior design
A daily planner with room for your schedule, priorities, tasks and notes
A full daily page for Saturdays and Sundays too (it's hard to find)- weekends are often busier juggling kids activities with catching up on laundry, meal prepping and cleaning you might have been too tired to do during the week
Plenty of notes pages for meeting notes, project plans or brainstorming and mind mapping ideas
Questions to Ask Yourself When Choosing a Planner for a Working Mom:
Do you want an all in one planner where work and home life are together? Or two separate sections or planners to keep work and home separate?
Do you want the whole year in one planner? Or will a quarterly planner work better?
How often do you need to carry it into the office? Is weight/portability an issue?
Do you need structured layouts or a hybrid bullet journal style with some structure to weekly layouts and lots of notes pages?
Do you need goalsetting in your planner?
Do you need a dated or undated planner?
I'm dividing my recommendations into if you need a new yearly, quarterly or undated planner so you can more easily find which planner is right for you.
Best Yearly Planners for Working Moms
These planners have a dated full year in one planner and are great planners for working moms because they have a page per weekday for your busy days. In no particular order, because I recommend (and have used) them all:
Dapperdesk by Emily Ley

2022-2023 Dapperdesk, Cognac
from:
Simplified by Emily Ley
The Dapperdesk is a bookbound, vegan leather planner with a very minimalist black and white one page per day layout. Only the cover has gold accents. There is room for your schedule (6am to 9pm), task list and a blank notes section for each day, even Saturdays and Sundays. The layout is very simple and it has 27 notes pages in the back. The planner is 5.8" x 9.1" and weighs 1.8 pounds.
The 2022-2023 Dapperdesk is currently sold out but the calendar year 2023 Dapperdesk will be releasing in September so I want to make sure to include it. Emily Ley planners do sell out and are not restocked so if this is the one you want, then be sure to grab it while you can. The 2022-2023 covers colors were cognac (shown above) and lilac and I anticipate the 2023 cover colors will be the same. But they do change cover colors each year.
Read my full Dapperdesk review here – the font and paper has changed since my review so be sure to check Emily Ley website for full details.
Get 10% off your first Emily Ley purchase of $50 or more
Check out and buy the Dapperdesk here
Day Designer Daily Planner
The Day Designer is a stunning daily planner with gorgeous covers, gold coil and accents. What makes this planner great for working moms is the goalsetting and preplanning pages and the weekday planning layout has a space for everything including top 3 tasks, dinner, what's due, finances, notes, daily gratitude, a schedule (5am to 9pm) and ample to do list space. Saturdays and Sundays share one page.
Because of all the planning pages, there are not many additional notes pages. I'd recommend an additional notebook if you need extra space.
The Day Designer Daily Planner comes in a full size (flagship) version which is 9" x 9.75" and weighs 2.6 pounds. It's a big beautiful planner for leaving on your desk but it is heavy if you are carrying it back and forth.
The Day Designer Daily Planner also comes in a mini version which is 6.625" x 8.3" and weighs 1.9 pounds. So it's more portable. The mini version schedule is from 7am to 7pm but otherwise similar to the flagship.
The Day Designer does offer a weekly version in both the flagship and mini versions if you don't need daily planning pages.
Read my full Day Designer Daily Planner Review (the original flagship size)
Get 10% off your total order with my discount code SMALLVICTORIES10 here
Wonderland 222 planner plus notebook
The Wonderland 222 is a highly functional and minimalist planner that is ultra lightweight because of the Japanese Tomoe River paper (52gsm) which in my opinion, is a dream to write on. The Wonderland 222 planner has a full year of monthly and weekly layouts, yearly, quarterly, and monthly trackers, monthly reviews and overviews and 90 blank grid pages for notes or daily planning.
If you want a full year and a page per day, you can also buy an additional grid notebook in a half year size or full year size. I don't always need a full page per day and then there are others when I need 2 or more pages per day. The beauty of having an accompanying daily notebook is that you can use it if/when you need it and you can use it for whatever you need it for. The daily notebook has hours in the margin which you can use or easily write over if you don't need it or work different hours.
The Wonderland 222 planner and notebook is a great option for working moms who need a hybrid bullet journal planner with both structure and flexibility. This is also a great solution for moms with ADHD as the co-owners have ADHD themselves.
It comes in an A5, B6, or A6 size and both dated or undated versions. Once you use their Tomoe River Paper, you might not want anything else. The paper is thin so you do need to find the best pen for you and it will ghost/shadow on the other side (my review tells you which I use). Works well with fountain pens too! The Wonderland 222 planner also the best option if you're a working mom that needs a lightweight planner.
Read my full Wonderland 222 planner review here (and why it's the best planner for ADHD)
Check out and buy the Wonderland 222 planners and notebooks here.
Best Quarterly Planners for Working Moms
Quarterly planner for working moms are the best choice if you are focused on goalsetting or don't want or need to carry a whole year's planner at once. Quarterly planners are more lightweight and it's a good option also if you want to try it out for a little while before committing to a whole year.
Full Focus Planner
The Full Focus Planner is great because it looks very professional in linen and leather cover options, spiral or book bound planners. The emphasis is on goalsetting, setting your ideal week and establishing daily rituals (routines) to help you be Free to Focus on what's important and get it done. It's a quarterly undated planner with space for 8 goal breakdowns and 2 pages per day planning pages, even on Saturdays and Sundays.
My favorite feature of the Full Focus Planner is the weekly previews. Those 4 pages encourage you to both reflect on what worked and what didn't but also helps you think through your personal and professional priorirites for the week ahead AND makes sure you incorporate self care and rejuvenation into your week, no other planner does that! It has the best weekly review in a planner that I've seen and that and the daily ritual setup has been a life changer for me.
Read my Full Focus planner review here for more info and pictures inside
Get 10% off your first order with my code TANYA10
Check out Full Focus Planner and buy here
Erin Condren Petite Planner System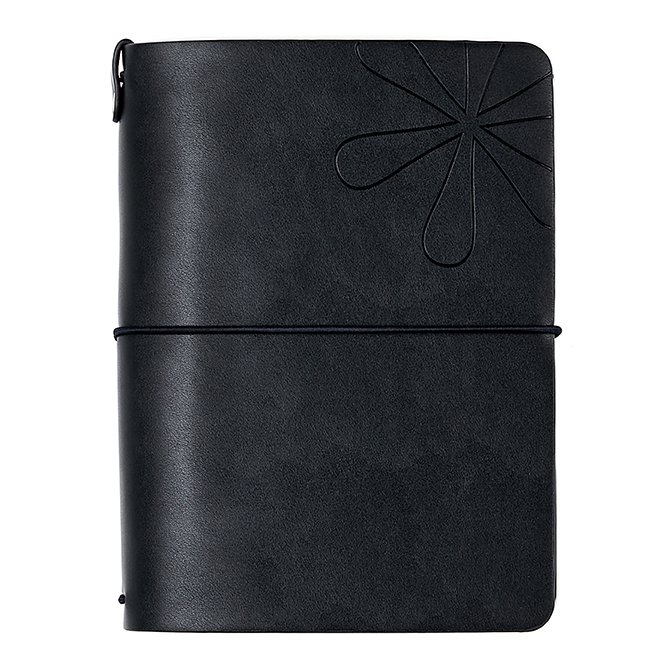 Erin Condren Black On The Go Folio Planning System
from:
Erin Condren
I love the Erin Condren Petite Planner because you can build the all in one planner you want. The folio is a vegan (synthetic) leather with 4 elastics inside to keep 4 A5 notebooks and journals. Erin Condren has a large variety of coordinating petite planners to choose from including a monthly planner, quarterly daily planners (Saturday and Sunday share a day), budget planner, self care, wellness and dot grid, blank, productivity or lined journals, to name a few.
It's easy to slip the notebooks in and out of the planner depending on your needs. You could have a meetings notebook to keep all your meetings in or a dot grid notebook for your brainstorming and mind maps.
Erin Condren has great paper quality and their products hold up well to being taken in and out of your bag for work. Erin Condren have a full line of planner, home and desk accessories and totes for anything you might want.
Honorable mentions:
Erin Condren also has a Daily Duo coiled set of 2 6-month planners that has a full day for Saturdays and Sundays, a lined page that could be used for weekly notes or review. The covers are laminate so depending on the design might not look as professional as the Petite Planner system.
Erin Condren also has a Focused collection which has professional, classic, neutral covers and minimalist interiors. They don't currently have a daily planner but if a weekly works for you then this collection is worth checking out. It's a typical planner and great for managing your tasks and schedule.
Read my Erin Condren Petite Planner review here (I will be updating this soon for this year's petite planner line)
Get $10 off your first order of $50 or more when you join the free insider program
Get 15% off when you sign up for Erin Condren emails
Get 15% off when you sign up for Erin Condren texts
Check out and buy Erin Condren planners and accessories here
Clever Fox Ultimate Achiever's Planner
The Clever Fox Ultimate Achiever's planner is a 3 month goalsetting planner. It is undated so you can start it at any time and has vision board, goalsetting, weekly planning and review and daily planning pages for 3 months. It encourages you to set short achievable 3 month goals and would make a great planner for anyone doing the 12 Week Year since it includes 13 weeks worth of planning.
It has a nice vegan leather cover and black and white minimalist interior pages. There's spaces for habit tracking and all kinds of lists and prompts to help you stay on track. I love that the daily planning pages have a space for today's wins to celebrate your small victories everyday and a space for how you can improve tomorrow.
The Clever Fox Ultimate Achiever's Planner is made with thick 120 gsm paper so the paper will stand up to your favorite gel pens. The Clever Fox line is a very reasonably priced option with it's no frills interior and I think you'll love it to help you set and achieve your goals.
Get 10% off your order when you use my discount code MSV10
Check out Clever Fox and buy here
Best Undated Planners for Working Moms
Undated planners allow you more flexibility so you can use them when you need to. So I had to mention a couple if undated planners are your thing (I've come to value the beauty of undated if you switch planners and enjoy trying out different planners like I do).
Simple Productivity Planner Printable
This is the productivity planner printable that I created with goalsetting, monthly, weekly and daily reflections and weekly and daily planning pages. It also has monthly bill calendars and meal planning so you don't lose sight of those important components of your life.
Print what you want when you need it. Print and put the pages in your ring binder, disc bound planner or tip into your Wonderland 222 notebook. It comes in a letter size or A5 size.
Check out and buy the Simple Productivity Planner here
Clever Fox 6 month Daily Planner
The Clever Fox Daily Planner is a 6 month planner with pages for a vision board, gratitude and motivation, quarterly goals, weekly overviews with habit trackers, weekly reviews and daily planning pages.
Each day has space for your schedule, to do list and a scale to rate your productivity so you can improve the next day. That's so smart!
The cover is a synthetic leather that comes in a variety of colors and the interior pages are simple black and white. Clever Fox's daily planner is a great option if you're on a budget or want a 6 month planner to try it out and see if you like it. I love that it has goalsetting and built in weekly reviews to maximize your productivity.
Get 10% off your order when you use my discount code MSV10
Check out Clever Fox and buy here
More Working Moms Resources
More Planning and Productivity Tips and Resources
Well there you have the 8 best planners for working moms to help you juggle work and personal life and make time for the things that matter to you.