My October 2014 Readathon Goals: Mystery, Magic and Murder
Normally I do not change my reading style for the season but with these great spooky readathons all over the blogosphere, I couldn't help but want to dive into scarier reading. I thought I would share all 3 of my October readathon goals in one simple post since they run together.
FrightFall Readathon Hosted by Seasons Reading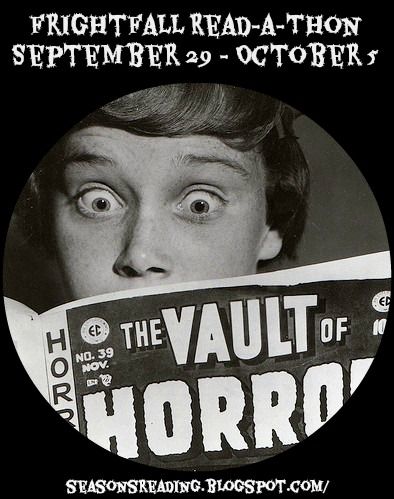 The Frightfall Readathon hosted by Michelle of Seasons Reading. Frightfall starts on Monday, September 29 and runs through Sunday, October 5, 2014. The "one main 'rule' of FrightFall is that you must read ONE scary book (which can be a thriller, mystery, Gothic novel, or similar for those who are faint of heart)."
My FrightFall goal is to read 11/22/63 by Stephen King. I have been wanting to try a Stephen King novel and since I am a chicken, started with this one that is more of a thriller and less of a horror. It was the most highly recommended to me when I chose it as one of my Top 10 Books to Read for Fall. I purchased it on Amazon on the Kindle for $2.99. It came with a 13 minute film/audio by Stephen King too and I look forward to hearing from SK himself. I hope to also participate in the Twitter chat if it fits my schedule.
RIP IX Hosted by Stainless Steel Droppings
Readers Imbibing Peril, or RIP IX, is hosted by Stainless Steel Droppings and started September 1 and runs through October 31, 2014. The two rules of this readathon are to have fun reading (and watching) and share that fun with others. The focus is on mystery, supernatural, gothic, thrillers, suspense, etc and can be accomplished with books, movies or both. I am choosing the Peril the Second level of the challenge and my goal is to read two books during before October 31, 11/22/63 as mentioned above and Harry Potter and the Deathly Hallows for my IRL book club with moms and kids. At approximately 800 pages each, I'll be lucky to get through one of them in a month, but I am going to aim high and shoot for 2 anyway.
Dewey's 24 hour Readathon Hosted by The Estella Society
It's Dewey's time again, a 24 hour readathon hosted by Heather and Andi of The Estella Society. Dewey's 24 Hour Readathon is on October 18, 2014 and the goal is to read as much as you can for 24 hours. It's on a Saturday and tough for me to do with kids soccer and all but I will read as much as I can from 11/22/63 and Harry Potter and the Deathly Hallows, whichever I am reading at the time. Dewey's has over 200 participants signed up already, hourly posts and mini-challenges along the way. It's a fun day celebrating books with other book lovers.  
Note: This post may contain affiliate links. There is no extra cost to you should you decide to purchase from one of my links. All opinions expressed are honest and my own.
Those are my October Readathon goals. What are you reading for the fall? Are you participating in these events? As always, happy reading!