Halloween is over, so the planning for Thanksgiving and Christmas can officially begin! And Pinterest is the best place to pin and get the ideas you need to make these holidays simpler and more magical all at the same time! Now is the perfect time to optimize your blog's holiday traffic and income with these tools and of course with our Pretty Pintastic Linkup Party that starts today and runs through Tuesday morning. Whatever it is you love looking for on Pinterest, our bloggers are sure to have some fabulous ideas you will want to save to your boards.
First, I thought I'd share my blogging tip and then at the bottom of the post is the Pretty Pintastic Party so you can share with us your best blog posts for us to pin and boost your blog's holiday traffic!
Note: This post contains affiliate links as indicated by an asterisk. Purchases from these links provides a small commission to me at no extra cost to you.
3 Tools to Optimize Your Blog's Holiday Traffic & Income Now
You're here cause you love Pinterest for your blog as much as I do. But NOW is the time to optimize your blog's holiday traffic and income from Pinterest and can help you attract more readers to your blog. These are the tools I use to help me skyrocket my traffic from Pinterest.
Pinning Perfect
Pinning Perfect* is the course I took a couple years ago and saw 1,899% growth in my traffic from Pinterest. Ever since, Pinterest just keeps DOMINATING my referral traffic. Pinning Perfect has been completely updated and includes an awesome Holiday Season Quick Start Guide only until November 30th.
Here's why I love Pinning Perfect and the Holiday Season Quick Start Guide:
Blog Clarity classes come with LIFETIME access so every time the algorithms change, they update the course, and purchasers get the updated class for FREE too!
The Quick Start Guide helps me hit the ground running now with actionable tips until I can retake the full course
The FREE Seasonal Holiday Keyword Cheat Sheet* gives me the best keywords to use in my pin descriptions so my pins can rank higher in Pinterest search.
I can't recommend Pinning Perfect* enough!
PicMonkey Royale
Pinterest requires beautiful images. I know there are plenty of options out there but I've had PicMonkey Royale for a couple years now and I'm still a fan. PicMonkey Royale costs $33 per year versus Canva for Work which costs $119.40 per year (or $12.95 per month). I've used PicMonkey Royale not just for my blog post images but for printables like my Summer Bucket List and Book Bucket List and for birthday party invitations.
Here's why PicMonkey Royale is worth the cost and a real bargain compared to Canva for Work:
I can use my own fonts so my images match my branding
The Hub and Templates features (currently in Beta) allow me to save different social media templates of my graphics so it takes a few minutes to change the font and image for each blog post
All the backgrounds, overlays and images within PicMonkey Royale are free (in Canva a lot of the backgrounds and images I loved were an additional $1)
I find it more user friendly
The Themes like Zombies, Winterland, Celebrate, School U & Comic Heroes group coordinating picture effects, backgrounds, texts, overlays and textures to give your images a cohesive and unique look
The downloads are smaller and the program takes up less resources
Canva for Work does allow you to use your own font and has "magic resizing" so if you create one image for your blog post, it automatically creates the same images in the different social media sizes. I tried the magic resizing but was not pleased with the results. I still had to go through each photo and tweak the borders and font to fill the space. It must use more resources because every time I use Canva for Work, my MacBook Air would freeze up.
Overall, after my free trial of Canva for Work I did not think it justified the additional $85 per year so I stuck with good ole PicMonkey Royale* and truly love it! Try out a free trial and see if it works for you.
Tailwind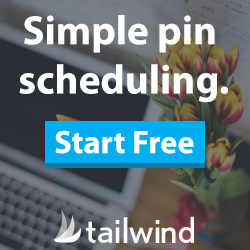 I'm horrible at scheduling social media. I have free Buffer and Hootsuite accounts that I never use probably because Facebook and Twitter have not shown me the return on my time investment that Pinterest has. On Blog Clarity's recommendation, I purchased Tailwind to schedule pins and I think it accounts for much of my growth in traffic and followers with minimal time investment from me. At $120 per year (or $9.99 per month), it is a monetary investment but it's been worth for me to see the exponential growth in my blog traffic.
Here's why I love Tailwind:
It monitors my followers activity so it schedules my pins for when my followers are most active
It puts a "schedule" button on image so I can pin any image from any blog post. I schedule pins for blogs I visit and linkup participants so their pins are seen at the best time too!
I can schedule pins with a click of a button and way in advance and then forget about it
I can reschedule popular pins easily and it recommends similar content for me to schedule
I can create and participate in Tribes where tribe members pin each other's posts (you can also participate in Tribes even if you don't pay for Tailwind)
I can schedule pins from Instagram which helps get me more IG traffic too
It gives additional specific analytics
Available on a Chrome Extension or as an Apple app too
Honestly, Tailwind gives a lot of analytics I have not attempted to understand yet. All I know is it is working well for my blog's traffic! You can get a free month of Tailwind with my referral link* or purchase Tailwind here*.
Well that's what I have for you this week's blogging tip to help you optimize your blog's holiday traffic and income even more. What are the tools that you love to up your Pinterest game?
I'd love if you'd help me out and pin this post!
Pin for Later
Pretty Pintastic Linkup Party Starts Here!
Welcome to the Pretty Pintastic Party, where every post is pinned & features are pinned by everyone!
First, let's meet the hosts:
Jamie, Kerry, & Lucy from Coffee With Us 3 Pinterest, Facebook, Twitter
Alli from An Alli Event Pinterest, Facebook, Twitter
Annie from Annie's Noms Pinterest, Facebook, Twitter
Stephanie from The Tip Toe Fairy Pinterest, Facebook, Twitter
Destiny from Suburban Wife, City Life Pinterest, Facebook Twitter
Heather from Divas Run for Bling Pinterest, Facebook, Twitter
Kelly from The Take Action WAHM Pinterest, Facebook, Twitter
Reesa from Momma Lew Pinterest, Facebook, Twitter
Paris from My Big Fat Happy Life Pinterest, Facebook, Twitter
Sarah from Thank You Honey Pinterest, Facebook, Twitter
Karyl from Karyl's Kulinary Krusade Pinterest, Facebook, Twitter
Celeste from The Whole Serving Pinterest, Facebook, Twitter
Tanya from Mom's Small Victories Pinterest, Facebook, Twitter
Julie from Julie is Coco and Cocoa Pinterest, Facebook, Twitter
Jenn from Loveland Lodge Pinterest, Facebook, Twitter
Kara from Phoenix Mom Blog Pinterest, Facebook, Twitter
Here's what your hosts have been up to this week!
Now on to the Party!!
This is a super relaxed party!
You show up with your fabulous posts and we pin every single one! We only ask one thing from you!
This week's Features:
Simple Thanksgiving Leftover Recipes by My Mommy World
Autumn Kale Salad by Gluten Free Homestead
Pumpkin Snickerdoodle Cobbler by The Gold Lining Girl
28 Must Have Tools for Thanksgiving by Crystal & Co.
10 Must-Have Winter Essentials by Classy Yet Trendy
Pumpkin DIY Thanksgiving Decorations by Oh My Creative
If you were featured, grab a featured button!!
Everyone else grab a button and help us spread the word about our party!! Thanks!
By linking up, you give coffeewithus3.com, divasrunforbling.com, julieiscocoandcocoa.com, anallievent.com, anniesnoms.com, thewholeserving.com, mybigfathappylife.com, momssmallvictories.com, mommalew.com, thetiptoefairy.com, thankyouhoneyblog.com, suburbanwifecitylife.com, karylskulinarykrusade.com, thetakeactionwahm.com, lovelandlodge.com, phoenixmomblog.com or any co-host permission to feature your post on social media and our blogs using a photo, title, and link to your site. Proper credit and links will be given to you.
By linking up, you will be added to the mailing list for The Pretty Pintastic Party. You will only receive emails reminding you when the party goes live.