7 Planners Like Franklin Covey to Achieve What's Most Important to You
These 7 planners like Franklin Covey will help you align your goals to your values and achieve what's most important to you, your family and your legacy. More awesome planner reviews here.
Note: I received some of the products in this post free for review consideration, opinions expressed are 100% my own. This post may contains affiliate links. Purchases from these links may provide a small commission to me at no extra cost to you. Refer to my Full Privacy Policy and Disclaimers here.
Franklin Covey (aka Franklin Planner) is a popular planner company known for their implementation of the life changing book 7 Habits of Highly Effective People, writing goals based on your values and roles and breaking those down into weekly and daily action steps. It's a very effective productivity system to make sure your to do list aligns with your values. (I highly recommend their free video training to teach you how to do that whether you use their system or not!)
I used the Franklin planner for most of 2021 (the Carrara inserts and goal planning pages are my favorite) and it definitely helped me achieve some huge goals (you can see it in action on my Instagram posts from 2021). Still I got restless and deviated from the system, because my Classic binder was stuffed full and it was really heavy to be able to take with me, not to mention I felt like I used a ton of paper to maintain it and I felt bad for the trees. So I needed a more portable, paper friendly and simplified option.
If for whatever reason, the Franklin Covey planners don't work for you, then here are 7 fantastic planners like Franklin Covey that will help you be super productive in working on those tasks most important to your values and goals.
1. Full Focus Planner
I feel like the Full Focus Planner is the planner most like the Franklin Covey because it really helps you nurture and fine tune a goal-focused productivity system while encouraging work-life balance. Similar to Franklin Covey, Full Focus has a free training series on their site to help you:
set meaningful and smarter goals,
beat an overwhelming to do list,
develop rituals (routines) as a basis for your ideal week
look forward and be excited for the week ahead
The Full Focus Planner focuses more on being selective and intentional with your time, prioritizing tasks that move your goals forward and making self care part of your weekly routine.
They have expensive courses and certified professionals to help you but I simply read Free to Focus: A Total Productivity System to Achieve More by Doing Less by Michael Hyatt at the beginning of 2021 and I feel like that gave a really good foundation for their system and exercises to work through to help you formulate your ideal productivity system. I I worked through the exercises and I incorporated what I learned into my Franklin Covey planner at the time since I had just bought it.
But in 2022, I got tired of trying to rewrite all my rituals/routines and my weekly review into my Franklin Planner, so I buckled down and bought the Full Focus planner.
My favorite features of the Full Focus Planner are:
the weekly "preview" (i'd call it a review) to reflect on last week and prioritize personal, professional tasks and self care for next week. it also has a "list sweep" to make sure none of your tasks or pending items fall through the cracks — these 4 pages are gold to me! and doing this exercise each week really helps you achieve your goals.
helps you think through your 4 daily "rituals" (aka routines): morning, workday startup, workday shutdown, and evening. The Workday startup is my favorite because it's those things I need to do to start my day off so I can be my best and most productive.
"ideal week" page to make you think about how to block your time to fit everything in that you need to.
goalsetting pages – love the key motivations, action steps and streak tracker for habit goals
it's an undated quarterly planner so you can hop in and out of it when you need to. You don't have to commit to a whole year if you find it doesn't work for you. But then when you need it you can start right where you stopped to minimize wasted pages.
daily planning pages – 2 pages per day, including Saturday and Sunday.
minimalist design (black font on white or cream colored paper, be sure to check the product description)
Read my full Full Focus planner review here.
Buy the Full Focus planner here and get 10% off your first purchase with my discount code TANYA10.
2. Simple Productivity Planner
If price or not needing all that paper is your issue with Franklin Covey planners, then you'll like my printable undated Simple Productivity Planner. The Simple Productivity Planner will help you:
set and achieve meaningful goals
block and track your time so you can maximize your efficiency and make time for the things you have to do and the things you WANT to do. You can write in your own time blocks so it fits YOUR schedule.
get the ultimate flexibility in planning your weeks and days. Multiple layouts for weekly and daily planners so you have whichever style you need at your fingertips. Blank layouts available too so you can write in the headers you need.
reflect on what worked and what didn't work so you can make progress and get better everyday.
CELEBRATE YOUR VICTORIES! and remember to recognize the big wins, what you're proud of and the small victories and happy memories along the way!
You can print the whole planner or just what you need when you need it. Multiple layouts and pages give you flexibility to customize the planner to fit your needs. The Simple Productivity Planner is available in US Letter and A5 size and on sale through 11/30/22 and it's a steal of a deal compared to the others in this list.
3. Cultivate What Matters Powersheets and Daily Planner Bundle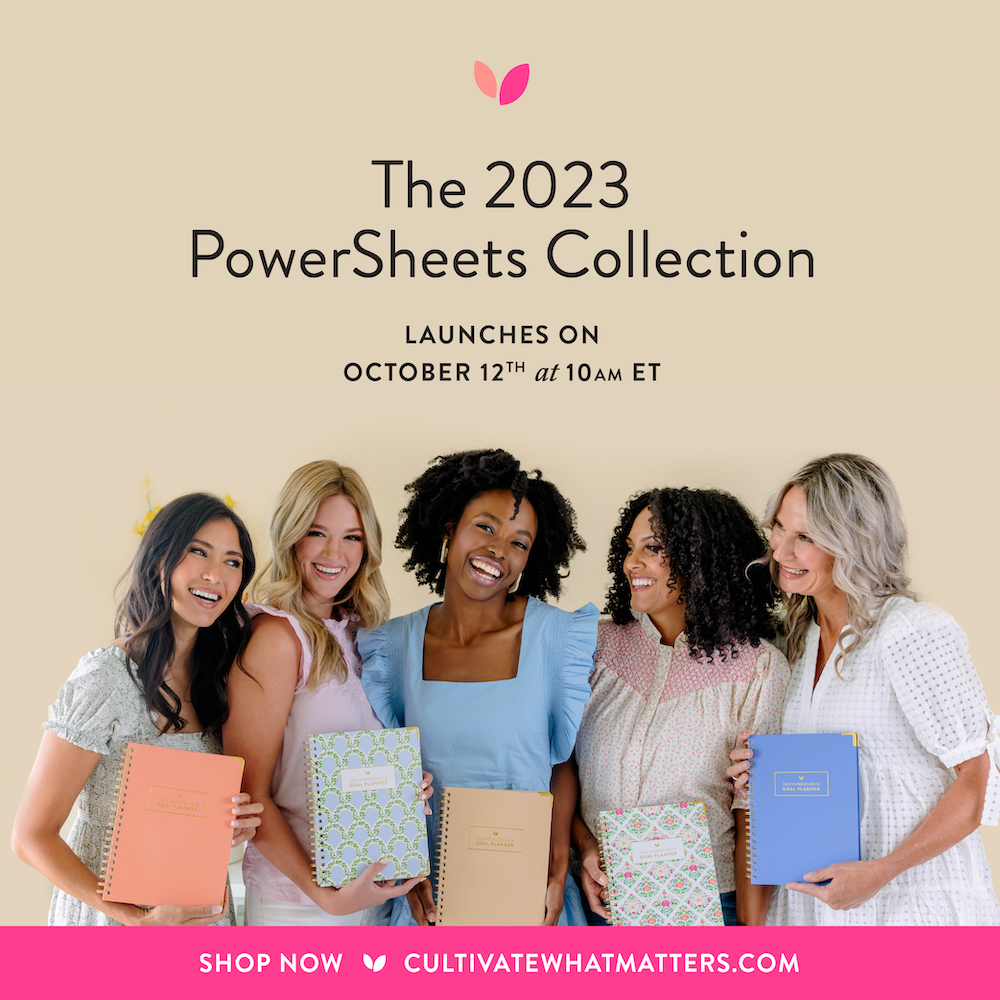 I'm a fan of the Powersheets goal planner (you can see my 2022 Powersheets goals and history here). The Powersheets are typically colorful and bright and floral and they just make me happy to flip through. The prep work in the goal planner is like no other. It really helps you reflect on your vision, your legacy, what motivates you and what holds you back. It helps you identify your values and what's important to you.
The Powersheets goals pages and monthly tending lists helps you identify and break down your goals into pieces. To take it a step further, you'll need a planner to actually schedule time for those goal tasks. Historically, you'd need a separate planner but for 2023, Cultivate What Matters came out with a daily planner to accompany the powersheets.
For Cyber Monday, You can get a Powersheets goal planner and Daily Planner bundle, I'm not sure if that will continue to be offered after the sale ends but they are available to purchase separately. Still the Powersheets can be used with any other daily/weekly planner too.
4. Day Designer
Day Designer is a lovely, professional and elegant planner like Franklin Covey. The coiled planners come in weekly or daily versions. In the beginning pages, there are self-assessment pages to help you identify your priorities, values, passions and strengths so you can pinpoint your true "heart goals". Additional pages help you identify the goals to tackle, break them down into your plan, and plan your ideal month and week. The daily and weekly planning pages help you track your to do list and schedule and the daily pages also have space to track top 3 priorities, dinner, finances, reminders and gratitude.
The Day Designer also comes in gorgeous A5 vegan leather binders also. The planner inserts for this version are just the daily planning pages but there are free printables on the Day Designer site if you want to print up the goal setting worksheets or test out any of the other options.
Read my full Day Designer daily planner review here
Buy the Day Designer here and get 10% off total order
5. Erin Condren Petite Planners
The Erin Condren Petite Planner system is a folio system that you can add up to 4 different planners or journals to build a customized planning solution. I love the variety of planners and journals offered and how easy they are to slide in and out of the folio to change things up when you need it or when you need (I will take just the meal planner or daily planner in my purse) . Individual journals are reasonably priced so you can get them one at a time or build your system all at once.
In order to build a planner like Franklin Covey, this is the system I recommend:
folio (the cover with 4 elastics inside to hold the various journals inside. Shown is the Colorblends folio but there are some others too)
goal setting journal
daily planners (you can buy each quarter indiviually or the whole set as shown above)
self care journal
notes journal (blank, dot grid or lined)
Read the full Erin Condren Pettie Planner review here
Check out the full Erin Condren Petite Planner system here. the journals/planners sell out and sometimes don't restock so grab them while you can if you see something you like!
6. Clever Fox Achiever's Planner
The Clever Fox 13 Week Ultimate Achiever's Planner is a planner like Franklin Covey because it's focused on goalsetting, daily planning pages, ample space for to do lists and is minimalist in interior design. The Clever Fox Ultimate Achiever's planner has the added bonus of reflection pages to help you stay focused on your goals and priorities and stickers to celebrate your achievements and keep the momentum going.
The planner is undated so you can use it for one quarter to decide if it will work for you. A full review is coming soon.
Buy the Clever Fox Ultimate Achiever's Planner here and get 10% off your order with code MSV10.
7. Living Well Planner
The Living Well Planner is a bright and colorful planner (they do have a neutral option too) and helps you fine tune your goals in various life areas, break them down into action steps and manage your family's schedule, projects, budget and meals. It's a great all in one life management planner for busy moms and encourages you to chase your goals, even if you have to Do It Scared…..
Click here for my complete Living Well Planner review so you can get all the details and pros and cons.
Buy the Living Well Planner here.
Want more free resources and productivity tips so can get more done and have more fun?
Subscribe now to my newsletter and gain access to the Exclusive Subscriber Library full of planners, printables and tips to plan and organize your life so you can crush your goals and achieve your dream life NOW!
More Planner Comparison Posts You Will Like
Well there you have it, the 7 planners like Franklin Covey that will help you align your goals with your values and achieve what's most important to you, your family and your legacy. Let me know if you see something you like or if you have any questions and I'll do my best to help.