Looking back, you might say I was having a mid-life crisis. I thought I had finally figured out what I wanted from my life. But at the end of 2017, that focus on my life mission started crumbling around me.
Life got overwhelming again. Every time I made progress on one goal, I would take two steps backwards on another. One after another, expensive house projects were needing my attention. I wondered if I'd have to give up my dream of earning a full-time income as a blogger and return to a job that I'm good at but that put enormous stress on me and consequently my health and my family's quality of life. I was deep down questioning what purpose my life was supposed to fulfill. I was looking desperately for signs from God to help me through.
I had heard about Powersheets from other blogger friends and saw a video by Powersheets and Cultivate What Matters founder Lara Casey. What a bright, bubbly light she was in a dark time for me. Lara radiated that point I wanted to get to, a mom of 3 kids and small business owner, who freely admits her struggles but overcame them to achieve a life she dreamed of.
Honestly, I bought the Powersheets wanting a miracle. Question is….did I get it? Well I'll show you in this 2018 Powersheets review.
Note: This post contains affiliate links as indicated by an asterisk. Purchases from these links provides a small commission to me at no extra cost to you.
Picture Walk Through of the 2018 Powersheets Goal Setting Planner
First, I thought I would walk you through the Powersheets* in pictures. At the beginning of the year, Powersheets were available in the white, dated one-year option and pink or teal undated 6-month options. They have all already sold out but Cultivate What Matters will be releasing more 6-month planners on April 24th in time for summer. Besides the number of months included, the only things missing from the 6-month planners is the seasonal pages and the colored monthly tabs.
I have the white, dated 12 month planner that I will be walking through for you. Want to know what I'm using? Specific pens and products I used along with the Powersheets are mentioned at the bottom of this post. If you're like me, you love pens as much as the planners you write in!

Planner Specifications:
Here are the specs for the one-year planner from the Cultivate What Matters website:
A simple three-part guided process that works:

PowerSheets Prep Work: the first section helps you uncover your goals and what matters most to you
Intentional Action Plans: step-by-step action plan pages for each of your goals with S.M.A.R.T. starting steps
Monthly Tending Pages: these pages help you live out your goals and action plans each month!

Created by Lara Casey, author of the best-selling books Make it Happen* and Cultivate*
NEW! Goal Refresh and Month In Review pages
Expanded Goal Action Plan pages
Wildcard pages to download and personalize your PowerSheets Goal Planner
188 pages of inspiring quotes and worksheets (12 more than 2017 // 21 additional full-color pages)
Simple, impactful design
12-month dated monthly workbook with January 2018 start month
Inside pages measure 7 x 10 inches, overall goal planner measures 9 x 10 inches
Sturdy, yet flexible spiral binding and full-color tabs
Water-resistant, flexible cover with rounded corners
Free bonus materials, including a "Word of the Year" card, encouragement postcard, and inspirational desk card
Exclusive to the One-Year edition: seasonal worksheets and colorful tabs that are dated by month
Worksheets include the Goal Action Ideas, Monthly/Weekly/Daily Tending Lists, Relationship Tending, Cultivating Gratitude, What Fires Me Up, Things I Want to Learn/Things I Learned, and more!
Includes exclusive access to the Cultivate What Matters community and PowerSheets Facebook Group
Two full pages of our signature goal setting stickers (because goal setting should be fun)!
Cover and Binding
The cover has a lovely leaf and gold pattern symbolizing the 4 seasons of the year. I love the simple touches of color, it's calming and pretty, not too vibrant or distracting. I don't know the technical name for it, but the cover is made of a paperboard kind of material, thicker and more flexible than cardstock. The spiral binding is a white plastic.
Since I tend to complete the monthly pages and then tear out the tending sheet with the goal tracker on it to put in my planner, the cover and binding have held up like new after 3 months. If I left the tending sheet in the planner and opened and closed it every day, I think the cover and tabs would get bent from use. That's ok, it's a sign of a well loved planner.
Pretty Inspiration
I love the inspirational quotes inlaid with gold foil font and the gold carries through the Prep Work pages.
Prep Work Pages
Now, here's where I was hoping for the miracle to reveal itself. What makes Powersheets unique is these Prep Work pages that makes you think about how your life is going, identifying your strengths and passions and your weakenesses and hidden fears, and how to pinpoint your most important goals so you can get them done. Lara's motto is "You know all those things you've wanted to do? You should go DO them!" Sounds wonderfully simple enough, right?
The Prep Work pages are very in-depth. This part took me awhile to get through and I didn't complete every single page because it was already January when I finally started and I wanted to get going on my goals. Lara hosts a Prep Work week at the end of December where she walks through her Powersheets with us and if I get this planner again, I will so make sure to get this part done earlier to join in the discussion in the Facebook group and have meaningful goals ironed out before the year starts. Since I felt behind, I didn't work on every single Prep Work page but it might be good as part of my March refresh to go back and finish.
2018 Ideas
One of my favorite pages to capture what I wanted 2018 to be FULL of:
Getting to Know Me
This was another fun page to complete, yep see I'm a self-proclaimed list maker extraordinaire!

Break Your Identity Box & Who I Really Am
I really liked the Break Your Identity Box page, writing down those things I was thinking but not saying out loud. My insecurities, I may be 40-something, but I totally still have them. The Who I Really Am page made me think about where I was, what I've been through and where I am now (and yes, the accountant in me made that an equation).
Cultivated Life Evaluation
The accountant in me loves finding objective and S.M.A.R.T. (Specific, Measurable, Achievable, Relevant, Timely) ways to analyze my life goals and tracking progress to achieve my dream life. So I was thrilled to see this Cultivated Life Evaluation in my Powersheets even though I had already done a similar exercise when I read The Miracle Morning* and did this Level 10 Life Analysis and Goals.
The objective is to rate your life so you can make improvements and work towards any areas that you feel are lacking. Here's what the Cultivated Life Evaluation looked like for me in January. I like that there is extra space to write why you feel the way you do about your rating.
What Fires Me Up
Y'all, this is the extent of my artistic ability but I loved working on this page. Just writing it down and adding color to it made me happy and you guessed it, fired up. I need to put this somewhere where I will see it everyday. I need to work in my office again and have this to look at whenever I need motivation. It's the little things really that motivate me.
Choose A Word
Blog Clarity introduced me to mind mapping when I took her Content Brew content strategy course years ago and I've loved it for brainstorming ideas ever since. So when I'm asked to choose a word for the year, I turn to my trusty mind mapping. But then I really agonized over which word to choose because I loved hem all.
I decided on Simplify because last year, I took on too many goals. I wanted to do all the things. And even though I felt like I made progress on many goals, none of them were finished, and I was not cool with that.
So in 2018 I'm trying to simplify my goals by picking just 3 main projects so I can get them DONE and then pick more. But more on that when we get to goalsetting…
Cultivate What Matters
A big, bold space to write what matters to you.
Saying "No" to vs. Saying "Yes" to
It's easy to get caught up in the comparison trap. I do that more than my kids do I think. I don't know why but I do know it has to stop.
I'm saying no to some of my insecurities and pity parties I tend to throw myself when my Rheumatoid Arthritis flares up on me. Writing down healthier and more positive ways to deal with my stresses.
There are 10 more Prep Work pages included that I haven't shown you. It really is robust and gets to the heart of what hinders you, how to reframe those negative thoughts and what motivates you.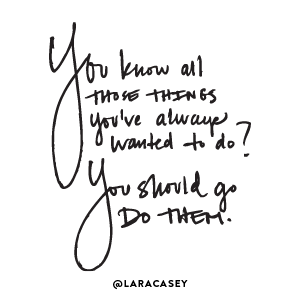 Goal Work
Now that we have completed the deep digging and self-reflection, the Powersheets* then take you through brainstorming your best goals, developing action plans to get them done and a monthly checklist to track your progress on your monthly, weekly and daily goals.
Brainstorm Your Good Goals
My mind is constantly brainstorming, it just doesn't stop so this page was easy for me to complete. I broke my goals down by life category in the Cultivated Life Evaluation and I then also color code my planner and tending list, of course. If you didn't know how much I love color coding, check out this post to see how I use it to track my time.
I also marked which goals I wanted to accomplish by working on it Monthly, Daily or Weekly.
My 2018 Goals
Next, the Powersheets* ask you to pick up to 10 goals to focus on. I only picked 3 to start with because as I said before, choosing a lot of goals caused me to fail last year. And the 3 goals I picked for this year were pretty huge…there is so much to declutter that I think it will take me all year! And the Bible, well I'm a slow reader but I have a plan to get through it in a year.
Action Plan Worksheets
Once you've got your main goals picked, then it's time to break that goal down into actionable pieces. That's where the Action Plan Worksheets come in. But not only are you breaking down that goal, but you're stating why it's important to you, how life will feel when you have and a reward when you've achieved it. I absolutely love that because it walks you through why it's worth your time to pursue the goal and give yourself motivation and incentive to get it done.
Monthly Work
Now that your goals are defined, it's time to fit your goals into your life and all those commitments you've got going on. First up….
Prepare Well
Write down your commitments and what you'd like to get done. I like these are written in columns. By the time I'm done writing in all my calendar appointments, I can better gauge how much extra time I have for important goal to do's.
Tending List
I love, love, love trackers and checklists. In my bullet journaled Passion Planner, I created all sorts of trackers and checklists to be able to monitor my goal progress. So when I saw these tending lists to track progress on my goals that were already done for me, I was ecstatic!
At first I wasn't thrilled that there were only 5 daily habits to track, but as Lara explained in one of her videos, the purpose is to pick just a few of the most important habits you want to develop. Makes sense, because often by the time I finish 10 daily habits, for example, there is little time left for any other goal work.
Here's my January tending list that I shared for #TendingListTuesday on Instagram. It's a great way to see what others are putting on their goal lists and how they are doing for extra motivation. I love that the tending list showed how much I focused on my daily habits. I was doing well keeping up with that, but was not doing as well with my monthly goals.
Month In Review
In line with a practice I learned in Getting Things Done: The Art of Stress-Free Productivity by David Allen*, at the end of the month you do a month in review. Analyze your tending list and planner and recap your month, review what went well, what didn't and how you want to change your priorities for next month. This exercise really helps my productivity and the reason I track my time is so I can really know how my month went (versus how I think it went, which is usually wrong).

Quarterly Work
Each quarter in the one-year goal planner has a quarterly refresh where they focus on one area of your life and to reevaluate your Cultivated Life Evaluation.
For example, the spring's refresh is all about clearing clutter, physical, mental and electronic….I soooo need this!
End of the Year Work
There are a few more spreads to wrap up and celebrate the year to get you ready for the next. I haven't worked through them yet, so I don't really want to get too far ahead of myself.
Supplies Shown
The Bottom Line Review
The bottom line is that Powersheets* are excellent for really doing the soul searching you might be resistant to, but is necessary to truly excel at your goals. By analyzing your fears, you can learn how to work through and overcome them, and get out of your own way to get things done. I love the prep work worksheets and I think they will be valuable to work through each year or as my priorities or seasons of life change.
I loved the prep work so much that I actually wanted more. I'm still looking for that answer to what my purpose in life is (besides serving my family and God) so I ordered Lara's book Cultivate* to dig even deeper into crafting an intentional life. I had looked it over at Barnes & Noble one day and loved how the book included even more thought-provoking prompts which would be perfect for daily journaling, a habit I would love to get back into. And the theme of gardening and cultivating the life you want starts from a seed that must be tended to so that it grows into the life you dream of.
Since I am a Getting Things Done* and Daily Productivity Guide for Bloggers fan, I was already pretty good at breaking down my goals into manageable pieces and doing the monthly review. That being said, I love the tending list summary to show goal progress. I tear it out so I can put it in my regular planner and have it handy so my goals and habits are always front and center.
The cons to the Powersheets* are the cost (regular price is $55) and that you still need another planner or bullet journal to manage daily appointments and commitments. I use the weekly Passion Planner which is like my bullet journal and got a gorgeous daily Purposeful Planner in March to help simplify my planning routine and manage daily life and work towards my goals. The Passion Planner has become more of a memory keeper and bullet journal when I have time to update it. It's a winning combination for a planner addict like me who is willing to invest in planners that help save my sanity and celebrate my small victories towards my big goals.
I have really enjoyed using the Powersheets this year and think they helped me pinpoint and truly focus on the most important goals. I spent so many year spinning my wheels or getting distracted by my epicly long to do lists, that I failed to make noticeable progress. The Powersheets* are helping me focus, get things done and even exceed the goals I set!
Here are some of the other goodies on my wishlist from the Cultivate What Matters shop.
Check out the entire Cultivate What Matters shop* for more stickers, couples and friendship guides, encouraging wall art and more of what you need to refresh your life and make your most important goals within your reach!
GIVEAWAY of a 6 Month Powersheets (Pink Cover) and copy of Cultivate by Lara Casey!
Ready to start cultivating and focusing on what's most important to you? Thanks to Cultivate What Matters, they provided me a Powersheets 2018 6 month edition with the pink cover* and a copy of Cultivate* by Lara Casey to give away to a lucky reader (US residents only) as part of my Ultimate Planner Comparison and Giveaway where I'm giving away 11 gorgeous planners and life changing books to 11 readers.
Ultimate Planner Giveaway 2018 Terms & Conditions:
1. Open to residents of USA only, ages 18 and older.
2. Mom's Small Victories will notify the winner via email. The winner must respond with a valid U.S. mailing address within 48 hours. If a response is not received within 48 hours, another winner will be selected.
3. No purchase necessary.
4. This giveaway is not associated with Facebook, Instagram, Pinterest or Twitter.
5. You can enter to win all 11 planner giveaways in the Ultimate Planner Giveaway but you can only win one of them. Be sure to fill out the Prize Form so I know which planners you want the most.
6. Representatives from Cultivate What Matters (Powersheets) provided complimentary planner and book for the giveaway. Opinions expressed in blog posts are 100% my own.
Want to See How Powersheets Compares to Other Life and Goal Planners?
Subscribe to my newsletter here and get the Ultimate Planner Comparison chart for free! I've compiled all the data and pored through 11 of the most popular planners in the market to help you find the best planner for you…to beat overwhelm, to juggle your many roles, to tame the chaos and to find planner peace for your current season of life.
Pin for Later