Hello and Happy Memorial Day Weekend for those in the U.S.! Kick back, relax and join the great posts in our Small Victories Sunday Linkup.
If this is your first time joining us…welcome and if you've been with us before…welcome back! Our Small Victories Sunday Linkup is designed to linkup your BEST posts to inspire others to read, cook, craft, live well and blog well. Share with us anything that will help others live a happier and healthier life. Sunday is the perfect day to reflect and celebrate the week that passed and look forward to the week ahead. Our linkup is open all week long so feel free to stop by anytime, it's never too late to linkup with us. If you need writing prompts or to see past linkups, visit our main Small Victories Sunday Linkup page.
Ways You Can Follow Your Hosts:

Tanya M from Mom's Small Victories | Pinterest | Facebook | Instagram | Twitter | Google +
Meagan from Sunshine and Sippy Cups | Pinterest | Facebook | Instagram | Twitter | Google +
Echo from Domain of the Mad Mommy | Pinterest | Facebook | Instagram | Twitter | Google +
Jessica from Positive, Inspired Living | Pinterest | Facebook | Instagram | Twitter | Google +
Rachel from Fit Triangle Mom | Pinterest | Facebook | Instagram | Twitter | Google +
Betsy from Betsy's Photography | Pinterest | Facebook | Instagram | Twitter | Google+
Gail from Frugal & Coupon Crazy | Pinterest | Facebook | Twitter | Google +
Brandi from Being Fibro Mom | Pinterest | Facebook | Instagram | Twitter | Google +
Heather from Gemini Red Creations | Pinterest | Facebook | Twitter | Google +
Kimberly from Keystrokes by Kimberly | Pinterest | Facebook | Instagram | Twitter
Tanya F from My Fruitful Home | Pinterest | Facebook | Twitter | Google +
Featured Bloggers
Each week my co-hosts and I will feature our favorite bloggers from the previous week's linkup. Visit each of my co-hosts to see who they've featured too! Tell me in the comments who are the favorite posts are that you visited and they'll get a feature too!
This week's Reader's Choice for most viewed post was 5 Steps to Better Facebook Engagement. I love Facebook as a social media but it sure is hard to get my over 1,000 likes to actually SEE my posts! These are great tips by Little Blog on the Homestead, thanks for sharing!
Some of my favorite posts were:
In honor of Memorial Day and the soldiers and their families that sacrifice for our freedom, why not make a US Army Tres Leches Cake from Janus Lane? Not only a moist, delicious cake but adorned with my favorite fruits make it a perfect tribute and dessert for a Memorial Day picnic!
It's no secret that my kids and I love to read. The Resourceful Mama shared this Summer Reading Bingo printable and one you can make yourself, looks like a fun way to encourage kids to read. I think I'll put the names of books in the boxes for the older ones, I've been wanting my 2nd grader to give Harry Potter a try and for my older one to try some classics. The youngest are already on our quest to read 1,000 books together so that keeps us busy, look for my update on that below.
My mouth started watering when I saw that Olives-n-Okra posted a recipe for Blueberry Biscuits. If you live near a Bojangles like we do, bo-berry biscuits are sooo good warm. These look like a fantastic homemade alternative, I gotta make these.
I love the DIY Eat Local Farmer's Market bag that Where the Smiles Have Been shared with us. We've got plenty in our square foot garden but I do need to do better getting to the farmer's market for fresh fruits and veggies. This bag is adorable, I want one!
My Weekly Recap
Reading:
I am still working on Silkworm on the Kindle for my IRL book club. I love a good mystery and this one has some eccentric characters that I am still getting to know. I enjoy J.K. Rowling's writing style and so far, so good with this one. My friend told me things would pick up at a certain point, and boy was she right! I need more time to read!
I am giving away a copy of Five Night Stand by Richard Alley. Stop by my review and GIVEAWAY of Five Night Stand! I really enjoyed this book about a jazz musician's life and the drama, passion and heartache that comes with his great music.
Blogging:
Here's what I wrote about last week.
Home:
* We finally bought a new fridge so much of my time was spent researching what to get. Too many options made it sort of overwhelming! As a result of the big purchase, I did really well sticking to my menu plan, no eating out for us this week!
* I walked kids to school and back 3 out of 5 days last week. Yay for more exercising. I always get like this as pool opens this weekend and I gotta squeeze myself into my swimsuit.
* Our random act of kindness this week was to take popsicles to the kids walking home from school. There's always a group of middle schoolers waiting about 30 minutes for their younger siblings at the elementary school to walk them home (my son is one of them). On a sweltering 90 degree day, they certainly appreciated the treat!
Now It's Your Turn to Share Your Favorite Posts and Small Victories!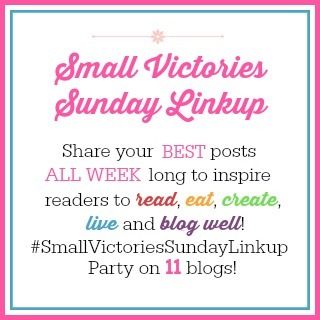 * Following your hosts is not required but appreciated!
* Grab the Small Victories Sunday button and place it in your sidebar or the post you are linking up.
* Share up to 3 of your favorite blog posts you want to share. Enter your link below and let's celebrate our small victories together! Please refrain from linking up posts with mature themes like erotica, new adult or offensive language.
* Please visit at least 2 others for every link you enter. This linkup only works if we support one another, your visits are crucial to fellow participants.
* By linking up, you are giving the hosts permission to share your post on their social media pages to let others know of your awesomeness too!
* By linking up, you are giving the hosts permission to email you notifications when the linkup is open. Your email addresses are not shared and you can unsubscribe to emails at any time.
* Stop by our Small Victories Sunday Linkup Board on Pinterest and like and repin the posts to your boards.
* Spread the word! The more you share about the linky, the more visitors you will get to your content too. Please use the #SmallVictoriesSundaylinkup hashtag so we can find your posts and share them too!
Linking this post up with these other fabulous linkies too:
SITS Sharefest and Find Joy in Everyday
Be sure to tell me your favorite posts you visited in our linkup and they'll get a special feature. Let's encourage each other on our blogging and life journey!