Can you believe it's been a year? Small Victories Sunday Linkup is now partying on
11

blogs!

Well it's the 52nd week or our linkup and that means I have hosted Small Victories Sunday Linkup for a year this week! I took a hiatus for awhile there when I was the only host. I got a bit disappointed when the number of people clicking the links was less than the number of participants linked up. It still happens these days but I have additional hosts to ensure every one gets a visit. It's a lot of work for us each week so we hope you return the favor and visit at least 2 posts for every link you add to the linkup. We have grown from a handful of posts to over 240 posts last week, a new record! Thank you for your continued support of Small Victories Sunday Linkup and we're so happy to celebrate your small victories with you!

In case this is your first time, Small Victories Sunday is a weekly linkup for your BEST posts to inspire others to read, cook, craft, live well and blog well. Share with us anything that will help others live a happier and healthier life. Sunday is the perfect day to reflect and celebrate the week that passed and look forward to the week ahead. Our linkup is open all week long so feel free to stop by anytime, it's never too late to linkup with us. If you need writing prompts or to see past linkups, visit our main Small Victories Sunday Linkup page.
Ways You Can Follow Your Hosts:

Tanya M from Mom's Small Victories | Pinterest | Facebook | Instagram | Twitter | Google +
Meagan from Sunshine and Sippy Cups | Pinterest | Facebook | Instagram | Twitter | Google +
Echo from Domain of the Mad Mommy | Pinterest | Facebook | Instagram | Twitter | Google +
Jessica from Positive, Inspired Living | Pinterest | Facebook | Instagram | Twitter | Google +
Rachel from Fit Triangle Mom | Pinterest | Facebook | Instagram | Twitter | Google +
Betsy from Betsy's Photography | Pinterest | Facebook | Instagram | Twitter | Google+
Gail from Frugal & Coupon Crazy | Pinterest | Facebook | Twitter | Google +
Brandi from Being Fibro Mom | Pinterest | Facebook | Instagram | Twitter | Google +
Heather from Gemini Red Creations | Pinterest | Facebook | Twitter | Google +
Kimberly from Keystrokes by Kimberly | Pinterest | Facebook | Instagram | Twitter
Tanya F from My Fruitful Home | Pinterest | Facebook | Twitter | Google +
Featured Bloggers
Each week my co-hosts and I will feature our favorite bloggers from the previous week's linkup. Visit each of my co-hosts to see who they've featured too!
This week's Reader's Choice for most viewed post was Blogging the Right Way by my co-host Tanya from My Fruitful Home. Blogging books are a great way to learn the tools of the trade. Whether you're a newbie or a veteran, there is always something to learn to become a better blogger since the "rules" and tips and tricks are ALWAYS changing! Thanks for sharing this resource with us Tanya.
Some of my favorite posts were:
Where the Smiles Have Been DIY Painted Canvas Bag that says "Today is a Good Day to Have a Good Day". I love this lovely, happy little bag and a perfect reminder to celebrate the good in every day.
Grilled Guava Shrimp from A Sprinkle of This and That. This sounds and looks so simple and delicious. I have not tried to grill shrimp but I need to!
Southern Banana Pudding Parfaits from Flavor Mosaic. I LOVE banana pudding and I seriously wanted to reach through my laptop and grab one of these parfaits off the screen. Thanks for sharing this scrumptious recipe.
Clean and Scentisble shared the Best Backyard DIY Projects. These are all so lovely and I would love to have any of these in my backyard. Now with our square foot garden in the backyard, we spend even more time in the backyard than before.
My Weekly Recap
Reading:
It's been quiet on the Travel the World in Books Reading Challenge front but we're starting a readalong for a book set in Australia/New Zealand in June. Join our laid back Goodreads group and cast your vote for which book you'd like to read with us (voting ends 6/1). It's a tight race so far between The Forgotten Garden by Kate Morton and The Light Between Oceans by M.L. Stedman. Which have you read or would like to read? Be sure to join us for the discussion on Goodreads, on our blogs and on Twitter. I'll have sign ups open next week!
I am determined on finishing Silkworm on the Kindle for my IRL book club THIS WEEKEND! I was enjoying it but it's starting to drag for me. I'm wondering if not reading the first book was a problem for me not forming an emotional attachment to the characters.
I will be starting Under the Same Blue Sky, historical fiction surrounding WWI and how it impacts future generations.
Blogging:
Here's what I wrote about last week.
I am still looking for guest bloggers to feature in my Be Our Guest Fridays series. If you are interested, let me know your email address in the comments and I will contact you to see if we are a good fit for each other.
Home:
* I did good sticking to my menu plan this week. After the big fridge purchase, we have not eaten out at all!
* I am really excited about the Summer Bucket List printable I made for us and shared with you too. I cannot wait for the kids' summer vacation to begin!
Now It's Your Turn to Share Your Favorite Posts and Small Victories!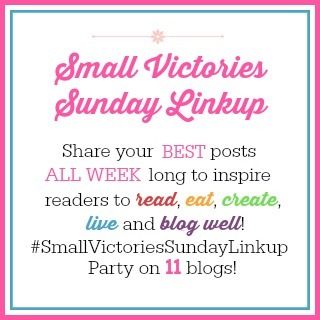 * Following your hosts is not required but appreciated!
* Grab the Small Victories Sunday button and place it in your sidebar or the post you are linking up.
* Share up to 3 of your favorite blog posts you want to share. Enter your link below and let's celebrate our small victories together! Please refrain from linking up posts with mature themes like erotica, new adult or offensive language.
* Please visit at least 2 others for every link you enter. This linkup only works if we support one another, your visits are crucial to fellow participants.
* By linking up, you are giving the hosts permission to share your post on their social media pages to let others know of your awesomeness too!
* By linking up, you are giving the hosts permission to email you notifications when the linkup is open. Your email addresses are not shared and you can unsubscribe to emails at any time.
* Stop by our Small Victories Sunday Linkup Board on Pinterest and like and repin the posts to your boards.
* Spread the word! The more you share about the linky, the more visitors you will get to your content too. Please use the #SmallVictoriesSundaylinkup hashtag so we can find your posts and share them too!
Linking this post up with these other fabulous linkies too: