Happy June! Is anyone done with school? Then you're ready to party with us… Small Victories Sunday Linkup is now partying on
11

blogs!

One of the kiddos is out of school and one more to go, I'm so ready for summer. Are you? We had an incredible 216 links for last week's linkup and happy to see more clicks than links, that means you all are doing a GREAT job supporting the bloggers linked up in our linkup. Remember to continue to visit at least 2 posts for every link you add to the linkup. Thank you for your continued support of Small Victories Sunday Linkup and we're so happy to celebrate your small victories with you!

In case this is your first time, Small Victories Sunday is a weekly linkup for your BEST posts to inspire others to read, cook, craft, live well and blog well. Share with us anything that will help others live a happier and healthier life. Sunday is the perfect day to reflect and celebrate the week that passed and look forward to the week ahead. Our linkup is open all week long so feel free to stop by anytime, it's never too late to linkup with us. If you need writing prompts or to see past linkups, visit our main Small Victories Sunday Linkup page.
Ways You Can Follow Your Hosts:

Tanya M from Mom's Small Victories | Pinterest | Facebook | Instagram | Twitter | Google +
Meagan from Sunshine and Sippy Cups | Pinterest | Facebook | Instagram | Twitter | Google +
Echo from Domain of the Mad Mommy | Pinterest | Facebook | Instagram | Twitter | Google +
Jessica from Positive, Inspired Living | Pinterest | Facebook | Instagram | Twitter | Google +
Rachel from Fit Triangle Mom | Pinterest | Facebook | Instagram | Twitter | Google +
Betsy from Betsy's Photography | Pinterest | Facebook | Instagram | Twitter | Google+
Gail from Frugal & Coupon Crazy | Pinterest | Facebook | Twitter | Google +
Brandi from Being Fibro Mom | Pinterest | Facebook | Instagram | Twitter | Google +
Heather from Gemini Red Creations | Pinterest | Facebook | Twitter | Google +
Kimberly from Keystrokes by Kimberly | Pinterest | Facebook | Instagram | Twitter
Tanya F from My Fruitful Home | Pinterest | Facebook | Twitter | Google +
Featured Bloggers
Each week my co-hosts and I will feature our favorite bloggers from the previous week's linkup. Visit each of my co-hosts to see who they've featured too!
This week's Reader's Choice for most viewed post was 20 Books of Summer, from Faith, Hope & Cherry Tea. Sharon is sharing with us the wonderful books she will be reading for various challenges this summer, including The Forgotten Garden for our Travel the World in Books Readalong. She has some great books picked out, stop by and get some ideas for summer reads.
Some of my favorite posts were:
Whitney Nic James shared How to Stay Motivated, when your striving for your goals might be waning, Whitney gives us 5 great tips on how to keep reaching for our goals, my favorite is #4. It's definitely helped me
My co-host Brandi from Being Fibro Mom shared some fun and creative Minecraft party ideas and free printables.
Aloi from Guiltless Reading who shared a book review on Jonathan Safran Foer's Everything is Illuminated. Since listening to Extremely Loud and Incredibly close by the same author, I have wanted to read others of his novels. Aloi called this one "brilliant" and it takes place in the Ukraine so would qualify for our Travel the World in Books challenge too.
My Weekly Recap
Reading:
Becca, Savvy and I are hosting a readalong for The Forgotten Garden by Kate Morton in June for our Australia group read for the Travel the World in Books Reading Challenge. Whether you've read this book before or are reading along with us, be sure to stop by and discuss with us on our blogs and in the Travel the World in Books Goodreads Group. At 500+ pages, this one also qualifies for Book by Book's Big Book Summer Challenge too. I like big books and I cannot lie, how about you?
I completed book #16 for the year, Under the Same Blue Sky by Pamela Schoenewaldt. A poetic story about a German immigrant family settled in America during WWI. Their trials and their tragedies of surviving in America when all those around them are anti-German. I'll be reviewing it on the blog on Monday and will be giving away my ARC, so stay tuned!
Blogging:
Here's what I wrote about last week.
I am still looking for guest bloggers to feature in my Be Our Guest Fridays series. If you are interested, let me know your email address in the comments and I will contact you to see if we are a good fit for each other.
Home:
* I had a really rough week with my Rheumatoid Arthritis last week. The overcast and rain persisted all week and by Friday I was laid up on the couch and all I could do was read.
* We also saw a nutritionist who gave me a diet to try to see if it helps my RA. Her suggestions are to eat minimal meat, no dairy, no sugar, no wheat/corn/soy, no processed or fried food and basically fruit, veggies, nuts and some fish is ok. I'm eating the frog and started cutting out the sugar first. So far I have not missed it (I'm only on day 2), but I'm finding out just how much sugar is in products that you wouldn't expect, like my favorite Trader Joe's Edamame Hummus. I feel better today, I had less morning pain than usual but it's sunny today so that could just be the sunshine. Wish me luck! Are you on a Paleo or Gluten-Free Diet or restricted diet? Does it help you?
Now It's Your Turn to Share Your Favorite Posts and Small Victories!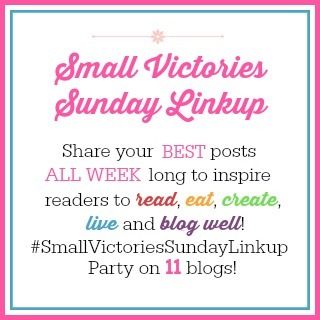 * Following your hosts is not required but appreciated!
* Grab the Small Victories Sunday button and place it in your sidebar or the post you are linking up.
* Share up to 3 of your favorite blog posts you want to share. Enter your link below and let's celebrate our small victories together! Please refrain from linking up posts with mature themes like erotica, new adult or offensive language.
* Please visit at least 2 others for every link you enter. This linkup only works if we support one another, your visits are crucial to fellow participants.
* By linking up, you are giving the hosts permission to share your post on their social media pages to let others know of your awesomeness too!
* By linking up, you are giving the hosts permission to email you notifications when the linkup is open. Your email addresses are not shared and you can unsubscribe to emails at any time.
* Stop by our Small Victories Sunday Linkup Board on Pinterest and like and repin the posts to your boards.
* Spread the word! The more you share about the linky, the more visitors you will get to your content too. Please use the #SmallVictoriesSundaylinkup hashtag so we can find your posts and share them too!
Linking this post up with these other fabulous linkies too: