Hello summer! Grab a refreshing drink and join us for Small Victories Sunday Linkup!
Wowee, We had an incredible 248 inspiring, delicious, creative posts in last week's linkup. Be sure you do your part and visit at least 2 posts for every link you add to the linkup. Really, there are some helpful posts out there you don't want to miss! Thank you for your continued support of Small Victories Sunday Linkup and we're so happy to celebrate your small victories with you!
In case this is your first time, Small Victories Sunday is a weekly linkup for your BEST posts to inspire others to read, cook, craft, live well and blog well. Share with us anything that will help others live a happier and healthier life. Sunday is the perfect day to reflect and celebrate the week that passed and look forward to the week ahead. Our linkup is open all week long so feel free to stop by anytime, it's never too late to linkup with us. If you need writing prompts or to see past linkups, visit our main Small Victories Sunday Linkup page.
Ways You Can Follow Your Hosts:

Tanya M from Mom's Small Victories | Pinterest | Facebook | Instagram | Twitter | Google +
Meagan from Sunshine and Sippy Cups | Pinterest | Facebook | Instagram | Twitter | Google +
Echo from Domain of the Mad Mommy | Pinterest | Facebook | Instagram | Twitter | Google +
Jessica from Positive, Inspired Living | Pinterest | Facebook | Instagram | Twitter | Google +
Rachel from Fit Triangle Mom | Pinterest | Facebook | Instagram | Twitter | Google +
Betsy from Betsy's Photography | Pinterest | Facebook | Instagram | Twitter | Google+
Gail from Frugal & Coupon Crazy | Pinterest | Facebook | Twitter | Google +
Brandi from Being Fibro Mom | Pinterest | Facebook | Instagram | Twitter | Google +
Heather from Gemini Red Creations | Pinterest | Facebook | Twitter | Google +
Kimberly from Keystrokes by Kimberly | Pinterest | Facebook | Instagram | Twitter
Tanya F from My Fruitful Home | Pinterest | Facebook | Twitter | Google +
Featured Bloggers
Each week my co-hosts and I will feature our favorite bloggers from the previous week's linkup. Visit each of my co-hosts to see who they've featured too!
This week's Reader's Choice for most viewed post was 6 Signs You're Obsessed With Your Blog from Wading Through Motherhood. Yes, this described me well a few weeks ago. My obsessions have turned to my planners, getting organized and eating healthy lately but I bet many of us bloggers can relate! I am still battling #5 and never can seem to catch up!
Some of my favorite posts were:
My SVS co-host, Betsy's Photography, shared 20 Questions about Mom that her toddler answered. A simple, fun keepsake for Mother's, Father's, and Grandparent's Day. Do they have a Siblings Day? Oh, I'd love to see what my boys say about each other! 🙂
Heather from Based on a True Story shared What I Wish People Knew about Food Allergies. She raises good points about the difference between an intolerance and allergy and how serious food allergies can be. Do you think people too loosely using the excuse they have a food allergy in restaurants when they don't really have one?
Jenn from Clean and Scentisble who shared How to Clean and Organize Your Laundry Room. Um, how did she know that my laundry room is the current hiding place for the clutter I haven't tackled yet? I have winter clothes, a new set of pots, a suitcase, pool stuff and God knows what else in there. I had it on my list in fact to tackle this week but we won't say how that went. She has some gorgeous photos and printables to help get your laundry room sparkling clean.
My Weekly Recap
Reading:
I've made a good dent in The Forgotten Garden and enjoying it so far. In case you hadn't heard, we are hosting a readalong for The Forgotten Garden by Kate Morton in June for our Australia group read for the Travel the World in Books Reading Challenge. Whether you've read this book before or are reading along with us, be sure to stop by and discuss with us on our blogs and in the Travel the World in Books Goodreads Group. At 500+ pages, this one also qualifies for Book by Book's Big Book Summer Challenge too. I like big books and I cannot lie, how about you?
I reviewed Under the Same Blue Sky for you and stop by to enter the GIVEAWAY! I'm sending one lucky reader my ARC copy of this lovely book. Following a German immigrant family in the US during World War I, this book makes us think about the emotional impact of war on its citizens.
I saw Very Good Lives by J.K Rowling in the library and had to grab it. Her commencement address to Harvard's Class of 2008, this book was every bit as magnificent and inspiring as I thought it'd be. A perfect graduation gift and a very easy read, I made my oldest son and Superhubby read it too!
I borrowed The Autoimmune Solution by Dr. Amy Myers from the library. My biggest complaint with rheumatologists is that they don't know how having RA feels since they don't have it themselves. While my current physicians are much more empathetic, my last rheumatologist acted like she just didn't care about the emotional impact the disease and the harsh medicines had on her patients. Dr. Myers is an autoimmune patient and devised this solution to help herself get better when conventional medicine failed her. I have to read this one in small pieces, it can be overwhelming to implement all her recommendations. She suggests eliminating a lot of food triggers, more than just gluten-free or paleo. Like I say below, I'm just taking baby steps to see if and how diet changes impact me.
Blogging:
Here's what I wrote about last week.
I am still looking for guest bloggers to feature in my Be Our Guest Fridays series. If you are interested, let me know your email address in the comments and I will contact you to see if we are a good fit for each other.
Home:
* Last week, I shared with you that I'd seen a nutritionist and have started cutting out sugar from my diet. It was rough at first. It's been a week now and I've been much more conscious of avoiding things with sugar (and that's totally harder than I thought it'd be). There are so many foods that have sugar in it that I would not have expected.
Anyway, I'm pleased to report that I saw a definite positive impact in it after my Remicade infusion. Normally, I'm in a lot of pain after the infusion, I'm bedridden, popping Motrin and can only worry, cry, read, eat and crawl into bed. Sometimes the pain is too bad for me to even read! This time, I actually felt well enough to engage in conversation with my Superhubby. It made him so happy to see me feeling so good (and not have to take Motrin until bedtime). Are you on a Paleo or Gluten-Free Diet or restricted diet? Does it help you?
Now It's Your Turn to Share Your Favorite Posts and Small Victories!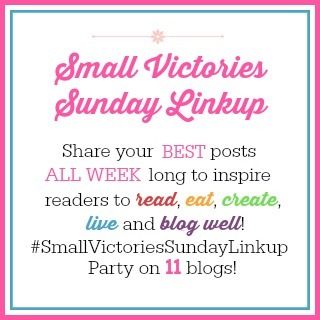 * Following your hosts is not required but appreciated!
* Grab the Small Victories Sunday button and place it in your sidebar or the post you are linking up.
* Share up to 3 of your favorite blog posts you want to share. Enter your link below and let's celebrate our small victories together! Please refrain from linking up posts with mature themes like erotica, new adult or offensive language.
* Please visit at least 2 others for every link you enter. This linkup only works if we support one another, your visits are crucial to fellow participants.
* By linking up, you are giving the hosts permission to share your post on their social media pages to let others know of your awesomeness too!
* By linking up, you are giving the hosts permission to email you notifications when the linkup is open. Your email addresses are not shared and you can unsubscribe to emails at any time.
* Stop by our Small Victories Sunday Linkup Board on Pinterest and like and repin the posts to your boards.
* Spread the word! The more you share about the linky, the more visitors you will get to your content too. Please use the #SmallVictoriesSundaylinkup hashtag so we can find your posts and share them too!
Linking this post up with these other fabulous linkies too: