Happy Father's Day Weekend! I hope you are having a wonderful weekend celebrating the dads in your life!
Last week we had 248 inspiring, delicious, creative posts linked up. Be sure to support your fellow bloggers and visit at least 2 posts for every link you add to the linkup. Really, there are some helpful posts out there you don't want to miss! Thank you for your continued support of Small Victories Sunday Linkup and we're so happy to celebrate your small victories with you! I'm sad to say we are losing two more hosts in our linkup team, be sure to stop by and thank Fit Triangle Mom and Being Fibro Mom for being such supportive, wonderful cohosts.
In case this is your first time, Small Victories Sunday is a weekly linkup for your BEST posts to inspire others to read, cook, craft, live well and blog well. Share with us anything that will help others live a happier and healthier life. Sunday is the perfect day to reflect and celebrate the week that passed and look forward to the week ahead. Our linkup is open all week long so feel free to stop by anytime, it's never too late to linkup with us. If you need writing prompts or to see past linkups, visit our main Small Victories Sunday Linkup page.
Ways You Can Follow Your Hosts:

Tanya M from Mom's Small Victories | Pinterest | Facebook | Instagram | Twitter | Google +
Meagan from Sunshine and Sippy Cups | Pinterest | Facebook | Instagram | Twitter | Google +
Echo from Domain of the Mad Mommy | Pinterest | Facebook | Instagram | Twitter | Google +
Jessica from Positive, Inspired Living | Pinterest | Facebook | Instagram | Twitter | Google +
Betsy from Betsy's Photography | Pinterest | Facebook | Instagram | Twitter | Google+
Gail from Frugal & Coupon Crazy | Pinterest | Facebook | Twitter | Google +
Heather from Gemini Red Creations | Pinterest | Facebook | Twitter | Google +
Kimberly from Keystrokes by Kimberly | Pinterest | Facebook | Instagram | Twitter
Tanya F from My Fruitful Home | Pinterest | Facebook | Twitter | Google +
Featured Bloggers
Each week my co-hosts and I will feature our favorite bloggers from the previous week's linkup. Visit each of my co-hosts to see who they've featured too!
This week's Reader's Choice for most viewed post was Fun Money Mom who introduced us to the Share The Wealth Sunday Linkup. You can linkup anything that will save people money, DIY, crafts, printables, tutorials, personal finance/budgeting ideas and even your fabulous recipes.
Some of my favorite posts were:
Dreaming of Leaving shared these pretty and delicious Patriotic Recipes for the 4th of July.
Bad Domestic Goddess shared 3 weeks of one dish meals roundup. With the fun of summer who wants to be stuck doing dishes? This is a great roundup of one dish meals to get you in and out of the kitchen fast.
Frugally Blonde shared 25 Fun and Frugal Activities to beat summer boredom. She's given me a few more to add to my Summer Bucket List Printable.
Literate for Life shared 5 Story Writing Websites for Kids. I'll be having my kids try some of these out this summer. We can all use help improving our writing skills!
My Weekly Recap
Reading:
Almost 400 pages into my big book for the summer, I've made a good dent in The Forgotten Garden and LOVING it so far. In case you hadn't heard, we are hosting a readalong for The Forgotten Garden by Kate Morton in June for our Australia group read for the Travel the World in Books Reading Challenge. We're past the halfway point, so I posted some discussion questions for chapters 1-27 of the book. Be sure to let us know your thoughts on the discussion post or in our Goodreads group. Spoilers are allowed, so stop by after you've read chapters 1-27 and discuss with us. I can't wait to see what happens but I don't want this book to end!
Under the Same Blue Sky GIVEAWAY is still open, 10 more days left to win this book! I'm sending one lucky reader my ARC copy of this lovely book. Following a German immigrant family in the US during World War I, this book makes us think about the emotional impact of war on its citizens.
I borrowed The Autoimmune Solution by Dr. Amy Myers from the library. My biggest complaint with rheumatologists is that they don't know how having RA feels since they don't have it themselves. While my current physicians are much more empathetic, my last rheumatologist acted like she just didn't care about the emotional impact the disease and the harsh medicines had on her patients. Dr. Myers is an autoimmune patient and devised this solution to help herself get better when conventional medicine failed her. I have to read this one in small pieces, it can be overwhelming to implement all her recommendations. She suggests eliminating a lot of food triggers, more than just gluten-free or paleo. Like I say below, I'm just taking baby steps to see if and how diet changes impact me. I'm still reading this one but did try out some of the recipes.
Blogging:
Here's what I wrote about last week.
I am still looking for guest bloggers to feature in my Be Our Guest Fridays series. If you are interested, let me know your email address in the comments and I will contact you to see if we are a good fit for each other.
Home:
* My diet changes to reduce sugar, cut back on dairy and gluten are really helping my morning pain levels. I can hardly believe my diet changes have actually made my pain from my period and thunderstorms better. I used to be able to tell when my period and rain was coming, but not anymore!
* I have been obsessed with trying out a bullet journal. I love my Erin Condren planner for 2015 but I have a hard time spending $50 on a planner and it doesn't have enough room now that I am tracking my food and pain levels too. The bullet journal may be a perfect and economical solution. Working out the kinks so I can show you how it's helped me!
Now It's Your Turn to Share Your Favorite Posts and Small Victories!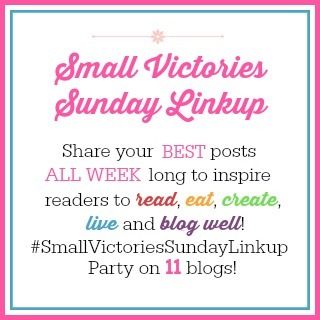 * Following your hosts is not required but appreciated!
* Grab the Small Victories Sunday button and place it in your sidebar or the post you are linking up.
* Share up to 3 of your favorite blog posts you want to share. Enter your link below and let's celebrate our small victories together! Please refrain from linking up posts with mature themes like erotica, new adult or offensive language.
* Please visit at least 2 others for every link you enter. This linkup only works if we support one another, your visits are crucial to fellow participants.
* By linking up, you are giving the hosts permission to share your post on their social media pages to let others know of your awesomeness too!
* By linking up, you are giving the hosts permission to email you notifications when the linkup is open. Your email addresses are not shared and you can unsubscribe to emails at any time.
* Stop by our Small Victories Sunday Linkup Board on Pinterest and like and repin the posts to your boards.
* Spread the word! The more you share about the linky, the more visitors you will get to your content too. Please use the #SmallVictoriesSundaylinkup hashtag so we can find your posts and share them too!
Linking this post up with these other fabulous linkies too: