Are you ready? Small Victories Sunday Linkup is now partying on
11

blogs!

In case you missed last week's announcement, we are happy to welcome 4 new cohosts to our Small Victories Sunday Linkup team. We're growing to keep up with the over 200 participants that link up with us every week! Heather from GeminiRed Creations is a creative crafty blogger, Tanya from My Fruitful Home blogs about home, faith and chronic illness, Brandi from Being Fibro Mom blogs about being a mom with Fibromyalgia and Kimberly from Keystrokes by Kimberly is a lifestyle blogger and an all around inspiring lady.

Back to the linkup…as you might already know, this weekly linkup is designed to linkup your BEST posts to inspire others to read, cook, craft, live well and blog well. Share with us anything that will help others live a happier and healthier life. Sunday is the perfect day to reflect and celebrate the week that passed and look forward to the week ahead. Our linkup is open all week long so feel free to stop by anytime, it's never too late to linkup with us. If you need writing prompts or to see past linkups, visit our main Small Victories Sunday Linkup page.
Ways You Can Follow Your Hosts:

Tanya M from Mom's Small Victories | Pinterest | Facebook | Instagram | Twitter | Google +
Meagan from Sunshine and Sippy Cups | Pinterest | Facebook | Instagram | Twitter | Google +
Echo from Domain of the Mad Mommy | Pinterest | Facebook | Instagram | Twitter | Google +
Jessica from Positive, Inspired Living | Pinterest | Facebook | Instagram | Twitter | Google +
Rachel from Fit Triangle Mom | Pinterest | Facebook | Instagram | Twitter | Google +
Betsy from Betsy's Photography | Pinterest | Facebook | Instagram | Twitter | Google+
Gail from Frugal & Coupon Crazy | Pinterest | Facebook | Twitter | Google +
Brandi from Being Fibro Mom | Pinterest | Facebook | Instagram | Twitter | Google +
Heather from Gemini Red Creations | Pinterest | Facebook | Twitter | Google +
Kimberly from Keystrokes by Kimberly | Pinterest | Facebook | Instagram | Twitter
Tanya F from My Fruitful Home | Pinterest | Facebook | Twitter | Google +
Featured Bloggers
Each week my co-hosts and I will feature our favorite bloggers from the previous week's linkup. Visit each of my co-hosts to see who they've featured too!
This week's Reader's Choice for most viewed post was Supermarket Tricks that Get You to Buy More. As one who has been budgeting and trying to use cash for groceries, I have noticed I tend to overspend at the big grocery store than when I go to Trader Joe's, which is a smaller store. I'm glad Maureen shared these tips to help us save more money when going to the supermarket. Thanks Maureen!
Some of my favorite posts were:
I am getting some Father's Day ideas already and I'm not sure if my Superhubby or kids would like these DIY Avengers Shoes more. I can easily find Avengers shoes in the store for kids and Superhubby is totally jealous. These would be great to make some for him too!
It seems the bloggers linked up last week have made up quite the perfect meal for Father's Day:
Jalapeno Onion Bacon Hot Dogs, seriously boys love anything with bacon!
Don't you think these Spicy Beer Battered Pickles sound great? What guy doesn't like beer battered fried food? I gotta admit I'm intrigued by this one.
Another of Superhubby's favorite things is chocolate chip cookies and this recipe for perfect chewy chocolate chip cookies would be a great ending to his Father's Day meal.
And the Strawberry Key Lime Margarita? Well that's for me while cooking up a delicious meal 🙂
My Weekly Recap
Reading:
I am still working on Silkworm on the Kindle for my IRL book club. I love a good mystery and this one has some eccentric characters that I am still getting to know. I enjoy J.K. Rowling's writing style and so far, so good with this one.
I'm also reading Five Night Stand for a TLC Blog tour on Monday. Following jazz pianist, Oliver Pleasant, and his final five nights before retirement. An entertaining musical journey, makes me miss playing the piano!
I won TWO books last week during She Reads Book Chats I'm so excited about reading, The Bookseller by Cynthia Swanson and The Daughter by Jane Shemilt. I love chatting with the authors and hearing their perspective on why they wrote the books and what inspired them. It makes me so much more excited to read them!
Blogging:
Here's what I wrote about last week.
Home:
* I'm doing better keeping up with some daily habits, I walked my son to school and back 4 out of 5 days last week (30 minutes each day), writing down something I am grateful for everyday and watering our square foot garden, which let's face it, after my family is my pride and joy this spring. Now if I can just take my medicine everyday and drink more water!
* Finished catching up on a few months of tracking expenses against our budget. I spent too much on food!
* The boys held a lemonade stand during our garage sale and the boys raised $50 for a family friend's son whose 8 year old has brain cancer. It was very rewarding and the boys worked very hard inviting people to their stand to raise money.
Now It's Your Turn to Share Your Favorite Posts and Small Victories!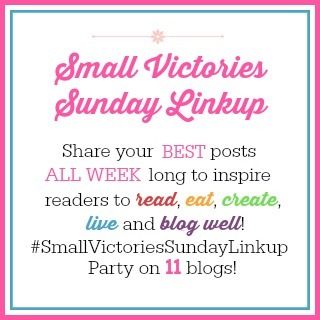 * Following your hosts is not required but appreciated!
* Grab the Small Victories Sunday button and place it in your sidebar or the post you are linking up.
* Share up to 3 of your favorite blog posts you want to share. Enter your link below and let's celebrate our small victories together! Please refrain from linking up posts with mature themes like erotica, new adult or offensive language.
* Please visit at least 2 others for every link you enter. This linkup only works if we support one another, your visits are crucial to fellow participants.
* By linking up, you are giving the hosts permission to share your post on their social media pages to let others know of your awesomeness too!
* By linking up, you are giving the hosts permission to email you notifications when the linkup is open. Your email addresses are not shared and you can unsubscribe to emails at any time.
* Stop by our Small Victories Sunday Linkup Board on Pinterest and like and repin the posts to your boards.
* Spread the word! The more you share about the linky, the more visitors you will get to your content too. Please use the #SmallVictoriesSundaylinkup hashtag so we can find your posts and share them too!
Linking this post up with these other fabulous linkies too: