Ultimate Blog Party Time! April 5th through April 12th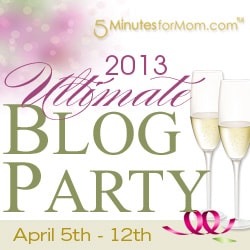 It's Party Time! I'm linking up with 5 Minutes for Mom for my first time partying at the Ultimate Blog Party!
Hi, I'm Tanya and the mom behind Mom's Small Victories. Welcome to my blog if this is your first visit. I have Rheumatoid Arthritis which is a chronic illness that impacts my joints worst in my hands and feet. I am also a mom of 3 active little boys and a full-time employee. As a way to cope with my busy life and keep a positive attitude, I started my blog to focus on those small victories in my life. I write book reviews, recipe reviews and nifty things I find that help make my busy and sometimes overwhelming life a little easier.
Here are some of my most popular posts if you'd like to visit and get to know me better.
Book Reviews
Sarah's Key by Tatiana deRosnay Book Review
Around the World in 80 Books Reading Challenge
Recipe Reviews
Emeril's Giant Chocolate Chip Cookie Cake
Slow Cooker Teriyaki Chicken
Motherhood/About Me
You Know You're a Mom When…
My Life List: A Bucket List but Better
Contact/About Me
Rheumatoid Arthritis (RA)
First Rheumatoid Arthritis Awareness Day
Gift Guide for RA Patients
My Weekend with RA: Like an Episode of "Survivor"
Why Are these Small Victories?
Find me all over the web:
On Facebook
On Twitter
On Pinterest
On Goodreads
On Google+
On Klout
On Bloglovin
Well that's my blog in a nutshell, what about you? Let me know what we have in common and what you love to blog about! Leave me a link with your blog and I'll be sure to visit!