Wordless Wednesday: Cuddle Time
Format:
select
I'm linking up with Ramona at Create With Joy for Wordless Wednesday.  Wordless Wednesday is a chance to share your family-friendly photos, with or without words with other bloggers who link up.
Today I can't remain wordless though because today I share with you that our sweet 14 year old doggie, Pebbles, passed away a couple weeks ago. She was our first baby and we got her soon after we were married. She was the ultimate Princess and cuddly lap dog. I think she would have preferred to be an only dog and have my husband's and my undivided attention. Yet she was so loving to the second dog we brought home, Snowball, and each of the 3 boys born after. She was sat on, rode on, pulled on and otherwise fiercely hugged by those boys and she loved them and never snapped at them. She was a beautiful girl, inside and out.
I miss you terribly sweet Pebbles. Hope you and Snowball are playing in Heaven and resting peacefully. We love you always.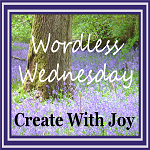 Do you have a photo to share for Wordless Wednesday? Visit Create with Joy and link up. She has wonderful link-ups which are great chances to meet other bloggers. Join us today!